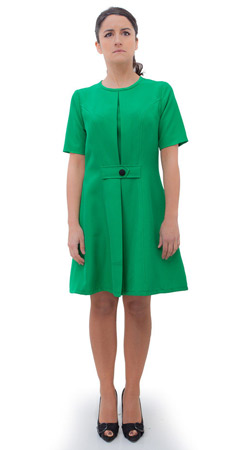 Was actually browsing for something else when I encountered these 1960s-style dresses by Swinging Chicks. Well worth a look.
Handmade dresses out of Spain, with the majority (but not all) likely to appeal to a mod / sixties audience. As they are handmade, you get to pick your size as well as the colour – and all of that without breaking the bank.
We've flagged up a couple of examples to give you an idea of styles and prices. Above is a green A-line dress, which retails for £51.13, while below is the black collar dress at £40.90 and the light blue dress, also at £40.90.
But to see the full range, check out the Swinging Chicks Etsy site.