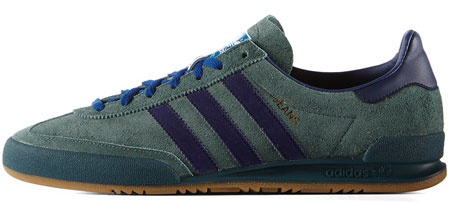 A take on the original shoe was around back in 2009, but this is the first time in decades that the Adidas Jeans Mk II trainers has made an appearance. Good news for Adidas devotees.
The original dates from 1975, with this second version dating from around 1979. It took the original and tweaked the design a bit, adding front and heel bumpers into the mix.
They are present on both of the reissues here (green and red), along with a suede upper, a T-toe overlay, some 'velour' three-stripe branding, classic print insole and a period Trefoil sole.
If you want a pair, don't hang about. They sell for £75.
Find out more at the End Clothing website