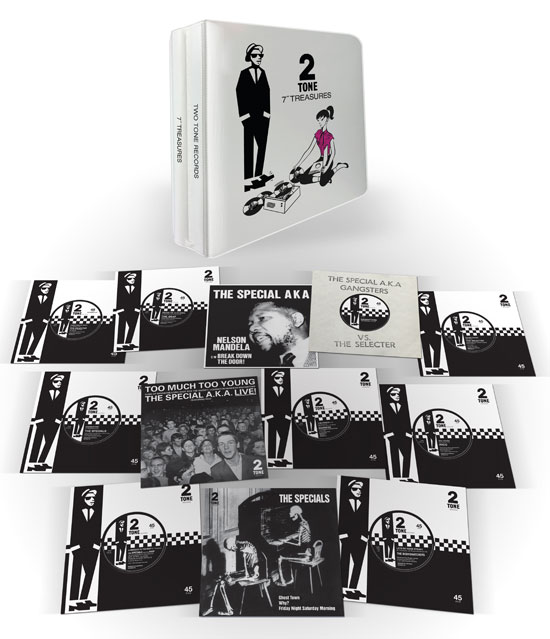 It has been 40 years since the launch of the 2 Tone label and to celebrate, the 2 Tone 7-inch Treasures vinyl box set is hitting the shelves.
Landing on 15th November 2019, the 2 Tone 7-inch Treasures vinyl box set has been produced in 'artistic consultation' with label founder Jerry Dammers, part of a larger series of releases which will include rare and unreleased material, much of which has not been available for several decades, or in some cases never before.
2 Tone was, of course, conceived by The Specials' founder, main songwriter and keyboardist Jerry Dammers, who's vision for the label took its blueprint from such disparate elements as Jamaican ska labels, Berry Gordy's Motown label, and the Buzzcocks' independently pressed Spiral Scratch EP.
The initial calling card was its striking visual aesthetic, based on a chessboard logo, and incorporating a cartoon mascot, loosely based on an image of Peter Tosh from the 'Wailing Wailers' album sleeve, and christened Walt Jabsco after a vintage bowling shirt.
No one could have suspected just how big it would become – and how long its legacy would last.
Debut singles by The Specials, Selecter, Madness and The Beat, as well as the first album (Specials) all reached the UK Top 10. That's followed by further success by fellow Coventry ska band The Selecter 's first album release, and further hit singles on the label from both these bands, as well as from all-girl London ska band, The Bodysnatchers.
There were two more albums from The Specials/Special AKA on 2 Tone, but it was a short-lived movement and label, even if the people within it went on to have long-term success.
What you have with the 2 Tone 7-inch Treasures vinyl box set is a 'chronological compendium' bringing together 12 vital singles and their respective b-sides.
Spanning five years, the collection kicks-off with four of the most important debut singles of the era, all released in 1979: The Specials' Gangsters and The Selecter's eponymous instrumental, split over one single, Madness' tribute to Ska's legendary Prince Buster The Prince and The Beat's ingenious ska reworking of Smokey Robinson's Tears Of A Clown.
It then journeys through additional vital recordings by The Selecter and The Specials, two of whose singles were UK number ones – the live version of Too Much Too Young, and the groundbreaking Ghost Town, which captured the mood of the time in a way which very few chart-topping records have ever done.
The Beat's Ranking Full Stop, performed by the sadly departed Ranking Roger, as well as The Bodysnatchers' Let's Do Rocksteady are also included, as is a 7'' recorded by the late Jamaican trombonist and original ska legend Rico (Rodriguez)'s Sea Cruise and Carolina. (Free) Nelson Mandela from The Special AKA was the label's final top twenty hit and is also featured here.
All of that is housed in a 1960s-style carry case and all tracks have been re-cut from the original masters. The first edition of box sets will contain a card personally signed by Jerry Dammers limited to 2500 copies.
You can but the box now, which has now been marked down to £83.99.
Update: This has now been discounted to £75.87 at Amazon.
Find out more about the 2 Tone 7-inch Treasures vinyl box set at Amazon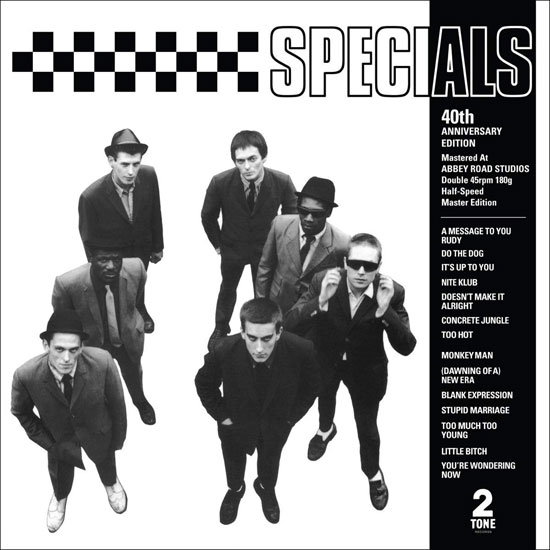 You can pre-order another of the new reissues. On 11th October a special edition half-speed master of the album Specials will be released. Mastered at Abbey Road Studios by Miles Showell, this special edition of one of the most important British debut albums of all time is a straight half-speed vinyl cut from the original master tapes, split over two 45RPM 12-inch vinyl discs and housed in wide spine LP. It will be released almost 40 years to the day from its original release.
You can pre-order that one at Amazon now for £24.99.
The full tracklisting for the box set is below.
THE SPECIAL A.K.A Vs. THE SELECTER: A. Gangsters / AA. The Selecter
MADNESS: A. The Prince / B. Madness
THE SELECTER: A. On My Radio / B. Too Much Pressure
THE SPECIALS: A. A Message To You Rudy / AA. Nite Klub
THE BEAT: A. Tears of A Clown / AA. Ranking Full Stop
THE SPECIAL A.K.A.: A. Too Much Too Young [Live] / B. Guns of Navarone [Live] / B. Skinhead Symphony (Long Shot Kick The Bucket/Liquidator/Skinhead Moonstomp
THE SELECTER: A. Three Minute Hero / B. James Bond
THE BODYSNATCHERS: A. Let's Do Rocksteady / AA. Ruder Than You
THE SPECIALS: A. Stereotype / B. International Jet Set
RICO: A. Sea Cruise / B. Carolina
THE SPECIALS: A. Ghost Town / AA. Why?/AA. Friday Night, Saturday Morning
THE SPECIAL AKA: A. Nelson Mandela / AA. Break Down The Door