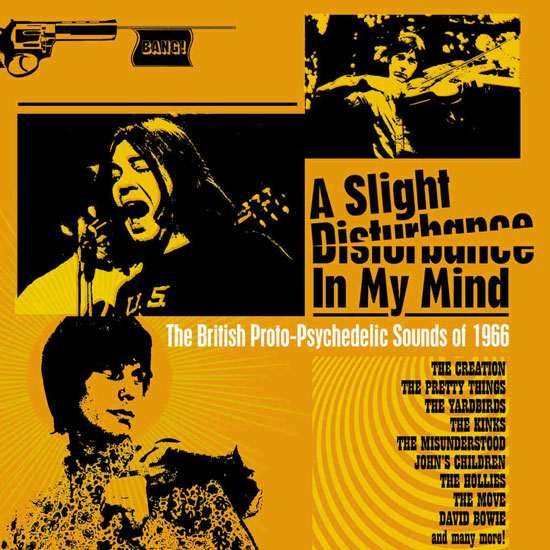 This one looks essential. A Slight Disturbance In My Mind – The British Proto-Psychedelic Sounds of 1966.
That's quite a title and this is quite a box set, taking in three discs and 84 tracks and covering the dawn of the psychedelic scene, but what is more commonly known as freakbeat.
A Slight Disturbance In My Mind: The British Proto-Psychedelic Sounds Of 1966 examines the 'experimental pop' element of the British music scene during an 'epochal twelve-month period' with a dizzying, dazzling mix of nascent psychedelia, introspective pop.
It features vital contributions from some of the era's biggest names, such as The Kinks, The Yardbirds, The Hollies and The Animals for example, but it also packs in a number of highly collectable cult classics, plus a huge stash of 'unissued-at-the-time nuggets' and early outings for such future legends as David Bowie, Marc Bolan, Slade and The Bee Gees for example.
All of that is housed in a clamshell box containing a 52-page booklet crammed with biographical information and priceless period photos and memorabilia. Cherry Reed describes it as 'a glorious snapshot of British pop storming the gates of a new, strange and wonderful dawn', which sounds about right.
The album is available to pre-order now but it doesn't land until 31st January 2020. You can secure a copy of the box set for £19.99 and you can see the track listing below.
Find out more about the box set at the Amazon website
TRACK LISTING:
DISC ONE
1. MAKING TIME – The Creation
2. SHAPES OF THINGS – The Yardbirds
3. I'LL KEEP HOLDING ON –
The Action
4. MUD IN YOUR EYE – Fleur-De-Lys
5. SWEET MUSIC – The Koobas
6. ORIENTAL SADNESS – The Hollies
7. PLAY DOWN – The Bee Gees
8. AM I THE RED ONE
(ALTERNATIVE MIX) – Mick Softley
with The Summer Suns*
9. I UNSEEN – The Misunderstood
10. SECURITY (EXTENDED VERSION) – The 'N Betweens*
11. I DIG EVERYTHING – David Bowie
12. SHE'S A GIRL – The Attraction
13. A HOUSE IN THE COUNTRY –
The Pretty Things
14. DADDY LONG LEGS
(BRASS-FREE VERSION) –
Lindsay Muir's Untamed
15. MAN WITH MONEY – Outrage*
16. THE QUIET EXPLOSION – The Ugly's
17. THIRTEEN WOMEN –
The Renegades
18. I TAKE IT THAT WE'RE THROUGH – The Riot Squad
19. MAJOR CATASTROPHE – Katch 22
20. HIPPY GUMBO (DEMO VERSION) – Marc Bolan
21. I WILL HAVE YOU – Just Five
22. TOMORROW NIGHT – The Times
23. BLOW-UP – The In Crowd
24. SIMPLIFIED – The Majority
25. BACK SEAT DRIVER –
The Ministry Of Sound
26. BABY, YOU'VE GOT IT – The Truth
27. I JUST GOT SOME – Rod Stewart
28. ANSWERS PLEASE –
The Luvin' Kind
DISC TWO
1. MY FRIEND JACK (DEMO VERSION) – The Smoke
2. PLEASE PLEASE ME – The Score
3. PAINTER MAN (2017 STEREO MIX) – The Creation
4. WHY DON'T YOU SMILE NOW – Downliners Sect
5. YOU'VE GOTTA HAVE LOVE BABE (DEMO VERSION) –
Graham Bond Organisation
6. OUTCAST – The Animals
7. WE'RE BROKEN – The Moody Blues
8. I'VE LAID SOME DOWN IN MY TIME – Tony Colton
9. WELL…ALL RIGHT – The People
10. SHAPES IN MY MIND
(US 45 VERSION) – Keith Relf
11. MY TIME (BRASS-FREE VERSION) – The Pretty Things
12. FANCY – The Kinks
13. YOU'RE MY GIRL – Manfred Mann
14. WHAT A STATE I'M IN –
The Tremeloes
15. TURN INTO EARTH – Al Stewart
16. THE MORNING AFTER –
The Mindbenders
17. WALKIN' WALKIN' WALKIN' –
The Favourite Sons
18. HAVE YOU EVER LOVED SOMEBODY – The Searchers
19. HUNGRY – The 5 A.M. Event
20. MOLLY ANDERSON'S COOKERY BOOK – The Artwoods
21. TAX MAN – Loose Ends
22. THE RUIN – Deep Feeling
23. KICKS – The Wheels
24. YOU'RE MY GIRL – The Kingpins
25. PAINT IT BLACK – The Tomcats
26. SAGITTARIUS – The Cortinas
27. WRONG WAY – The Brood
28. HOLIDAYMAKER – The Key
DISC THREE
1. THE LOVE I THOUGHT I'D FOUND – John's Children
2. SAVE MY SOUL – The Wimple Winch
3. STROLL ON – The Yardbirds
4. GLENDORA – Downliners Sect
5. I'M NOT YOUR STEPPING STONE (DEMO VERSION) – The Flies
6. IT'S A CRIME – The Kirkbys
7. LET THE LIVE LIVE – The Sorrows
8. I GO TO SLEEP – The Fingers
9. DON'T TELL ME – Arthur Brown
10. HAPPY NEW YEAR – Beverley
11. I AM THE WORLD – The Bee Gees
12. CLOWN – The Hollies
13. INDICATION – The Zombies
14. LITTLE ROSY – The Rocking Vickers
15. WHAT DOES SHE DO – Sounds Around
16. MY LITTLE RED BOOK – Episode Six
17. NO MORE YOU AND ME –
The Tornados '66
18. GIRL CHILD, I AM AN EVIL WITCHMAN – The 'N Betweens
19. HURDY GURDY MAN – The Spectres
20. SUMMER LEAVES ME WITH A SIGH – Tuesday's Children
21. ADVERTISING MAN – The Reaction
22. MY WORLD FELL DOWN –
The Ivy League
23. HEY, YOU LOLITA – The Silence
24. I SUPPOSE – The Secrets
25. DIFFERENT KIND OF LOVE SONG – Outrage*
26. TOMORROW NEVER KNOWS –
The Mirage
27. MY MIND – The Misunderstood
28. DISTURBANCE – The Move
* PREVIOUSLY UNRELEASED