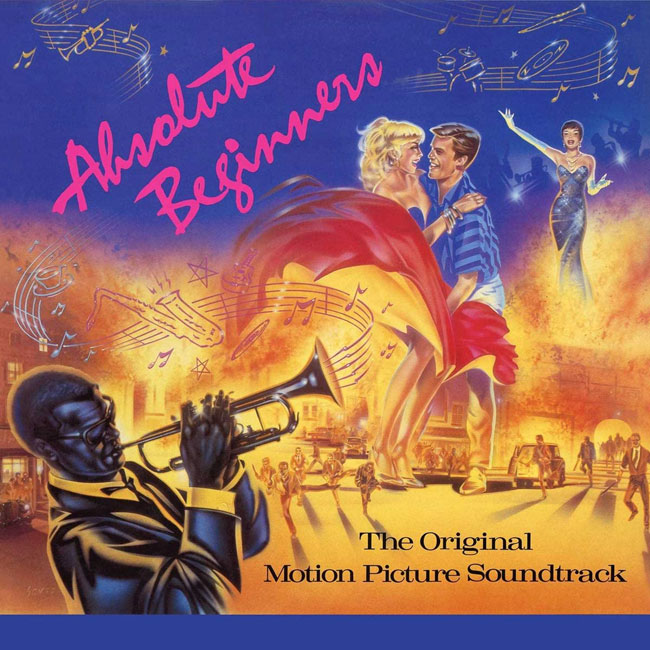 This will divide the audience. Not unlike the film. An Absolute Beginners soundtrack vinyl reissue is coming your way soon.
Yes, the Absolute Beginners film. I know. For some people, it brings out cold sweats, while others are quite partial to Julien Temple's big-screen adaptation of the classic Colin MacInnes novel.
As for me, I'm somewhere in the middle. The film was a massive disappointment back in 1986, but having re-watched it in the fairly recent past I've come a bit. Only a bit mind. You can read my review of the film from a few years back here. If you have missed it or want to give it another go, you can pick up the 30th anniversary Blu-ray edition online.
Which brings us to the soundtrack. Like the film, it had its moments but wasn't quite what was expected. If you'd read the book you would be expecting a diet of modern jazz of the era to match the musical taste of the characters within the book/film. That didn't happen.
The double vinyl set here offers a mix of contemporary tunes of the day (albeit music intended to fit the movie) and incidental music. It's an odd mix. But there are some decent tunes on it (not least the extended version of The Style Council's 'Have You Ever Had It Blue?') and if you are a fan of Absolute Beginners on the big screen – and don't still have your original copy – here it is.
The two-disc set lands on 17th July 2020 and is available to order now, priced at £24.28. Tracks below.
Find out more at the Amazon website
Tracklisting:
Disc: 1
1. Absolute Beginners – David Bowie [SIDE A]
2. Killer Blow – Sade [SIDE A]
3. Have You Ever Had It Blue? – The Style Council [SIDE A]
4. Quiet Life – Ray Davies [SIDE A]
5. Va Va Voom – Gil Evans [SIDE A]
6. That's Motivation – David Bowie [SIDE B]
7. Having It All – Eighth Wonder ft Patsy Kensit [SIDE B]
8. Rodrigo Bay – Working Week [SIDE B]
9. Selling Out – Slim Gaillard [SIDE B]
10. Riot City – Jerry Dammers [SIDE B]
Disc: 2
1. Boogie Stop Shuffle (Rough & The Smooth) – Gil Evans [SIDE A]
2. Ted Ain't Dead – Tenpole Tudor [SIDE A]
3. Volare (Nel Blu Dipinto Di Blu) – David Bowie [SIDE A]
4. Napoli – Clive Langer [SIDE A]
5. Little Cat (You Never Had It So Good) – Jonas (24) [SIDE A]
6. Absolute Beginners (Slight Refrain) – Gil Evans [SIDE A]
7. Better Git It In Your Soul (The Hot & The Cool) – Gil Evans [SIDE B]
8. Landlords And Tenants – Laurel Aitken [SIDE B]
9. Santa Lucia – Ekow Abban [SIDE B]
10. Cool Napoli – Gil Evans [SIDE B]
11. So What? (Lyric Version) – Smiley Culture [SIDE B]
12. Absolute Beginners (Refrain) – Gil Evans [SIDE B]