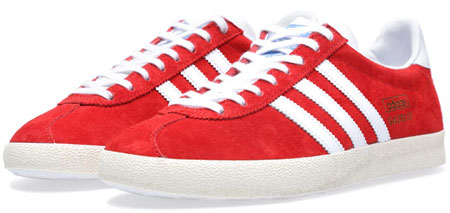 We flagged up a reissue in navy blue a short while back and now we've just spotted the Adidas Gazelle OG trainers in two further colour combinations, red and brown suede.
Both follow the same classic pattern as the blue variation, an OG shoe based on the late 1960s classic and its slimmer profile. That means a suede upper, zig zag leather stripes and a white gum sole. All nice and simple.
Getting each one is less simple.
If you want the red suede version, you can get that from End Clothing for £65.
If you want the brown suede version, that's available from Stuarts of London for the same £65 price tag.