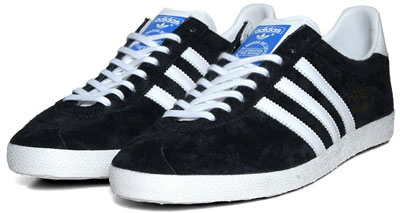 Think classic Adidas and you probably think of the Gazelle. Think classic classic colourway and you probably think of something like the Adidas Gazelle OG trainers in black and white.
New on the (online) shelves, this is a limited edition of the OG variation of this classic late '60s shoe. For your money, you get a black suede upper with white detailing, a white gum sole and zig zag leather stripes. Perfect for the summer months – or the spring if the rain holds off.
Fancy a pair? £65 is the asking price online.
Find out more at the End Clothing website