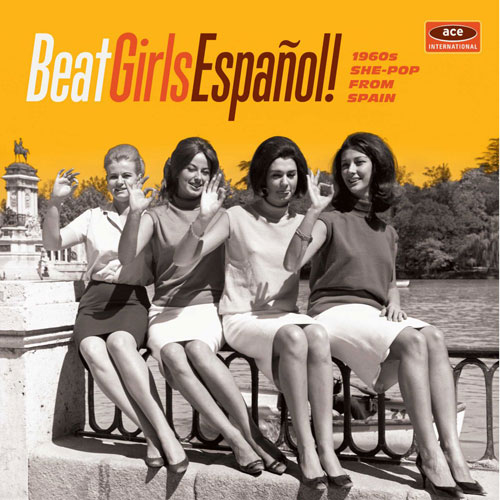 If you are following this series from Ace Records, then you should be interested in the upcoming Beat Girls Espanol! 1960s She-Pop From Spain album.
It's a similar scenario to the other albums. Girl beat and pop from the 1960s. Only this time, we've relocated to Spain for a CD and vinyl release.
Dubbed the 'Torrelaguna sound', this is Spain's take on beat in the 1960s, which was influenced by UK and US music, but kept its own distinctive sound that could only be from Spain.
The collection features releases from the most important labels of the day, including Hispavox and Belter, offering a mix of originals and Spanish takes on UK/US hits (such as Sonia doing 'Get Off Of My Cloud' for example).
The collection is available in 14-track LP and 24-track CD formats, so obviously the track listings vary. But the CD one is featured below. The LP version is pressed on 180g white vinyl and packaged in a heavy-duty sleeve with an inner bag featuring words and colour illustrations. The CD edition comes with a bumper 24-page booklet containing expanded notes and extra illustrations.
Both land on 26th January and both are available to order now.
Beat Girls Espanol! LP release at Amazon
Beat Girls Espanol! CD release at Amazon
CD track listing:
1. Corazon Contento – Marisol
2. Creo En Ti – Rocío Dúrcal
3. Ya Veras – Karina
4. Pinta Mi Mundo – Gelu
5. Molino Al Viento – Los Stop
6. Aqui En Mi Nube – Sonia
7. Si Llegara El Amor – Rosalia
8. Nunca Hay Bastante – Adriángela
9. No Se Por Que – Massiel
10. Prima O Poi – Silvana Velasco
11. Tendras Que Llorar – Lorella
12. La Verdad – Soledad Miranda
13. Voy a Pintar Las Paredes Con Tu Nombre – Los Mismos
14. Pon Un Anillo En Mi Dedo – Las Chic
15. Cerca De Ti – Las Chic
16. Calor – Conchita Velasco
17. No Me Lo Puedo Creer – Ivana
18. Quiero Romper Tus Cartas – Ivana
19. Yo Te Dire – Karina
20. Tiene La Tarara – Marisol
21. Ven Con Nosotros – Marta Baizán
22. Las Rocas Y El Mar – Massiel
23. El Es Distinto a Ti – Pic-Nic
24. Sor Ye Ye – Rachel