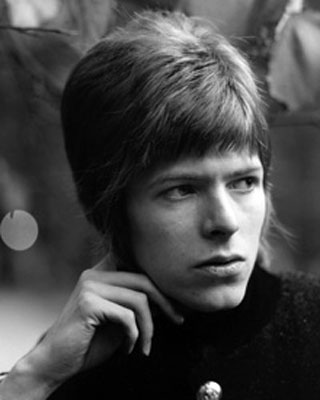 The Scenester check out the National Portrait Gallery's latest 60s photo show.
With a free afternoon and £11 burning a hole in each of our pockets, Mlle. Scenester and I took us off to the NPG to wallow in the sights and sounds of that most magical of decades, but found it wanting.
The rooms are usefully arranged in year order and do their best to chronicle the major players of each year, with at least one case of ephemera to lighten up the banks of photos that make up the major part of the exhibition. It was here that we saw our first warning beacon, that this installation may not be as wide-ranging or involved as we would like it. A collection of sheet music and front of house sets featuring such luminaries, as Cliff Richard, Helen Shapiro and Joe Brown were welcome, but not particularly rare examples of memorabilia. Similarly with the annuals dedicated to these early pop stars, all of which regularly turn up in charity shops all over Britain, such was the huge numbers they were printed (and bought) in.
LP covers from that golden era also fail to impress, so well known have they become; I tend to feel that covers are totally unsuitable for display anyway; they belong in your collection, their disk contents preferably being played, rather than hanging on a wall.
'But', I hear you say, 'enough of this, what about the pictures?' and I will describe them, but first, another moan. I think we all agree that photographic images of that wonderful epoch are not nearly as numerous as we would like. Necessarily, the monochrome images outnumber the colour, but why were there so very few colour pictures at this exhibition? At the risk of boring everyone rigid, I will repeat my assertion that it is through the colour images that we see the era more potently, and their rich hues are more evocative, more beautiful and more important than the mere recording of line and form in monochrome.
A better head than mine once compared life in the late 50s / early 60s to; 'living your life in black and white for so long, and then, suddenly, colour came'. The sheer rarity of colour images at this exhibition marred its impact, even its legitimacy, as an historical record of the most exciting period of British social history. I'm not saying that the monochrome images lacked interest or relevance or detail, just that a stratum of truth was missing, and I feel that the resources available to our major museums could have corrected this.
An indication of how little times change was given by a passing lady, who, examining a classic shot of 'Steampacket', lined up in a row, took one glance at Rod Stewart, resplendent in his suit and bouffant, and remarked to her friend;
'Look, it's Rod Stewart in a girl's haircut'.
Due to the inclusion of many images from the pages of 'Salut Les Copains' a French pop magazine that may not be totally familiar to everyone reading this article, we saw some beautiful and pleasing shots of 60s popettes like Sandie Shaw and Marianne Faithfull, and many of the Rolling Stones at their bad-boy best. There was a particularly charming pair of shots of Sandie and Marianne, each doing a jig-saw of the other's LP cover. This room was a comparatively good part of the exhibition, considerably well complemented by manikins of Sandie, Twiggy and Patti Boyd modelling Biba and Mary Quant originals (I thought your ears would prick up there!).
Some stunning images of Jimi Hendrix, in classic romantic garb, Julie Driscoll, her sculpted head, her skin deathly white, shot from above, eyes closed like some Renaissance Christ Child, along with many shots of the Fab Four, and others, unseen for decades, did not save this event, sadly. When reproduction newspapers are shown in place of originals, when over-familiar Bailey and Donovan images dominate the walls like an outbreak of religious icons, the viewer is left with a feeling that this vast space could have been used to house a truly stunning and memorable collection, after inevitable and totally justified extensive research.
No solace was to be found in the shop, stuffed to the gills with the usual mod tat, (£15 for a knitted tie, anyone?) The readers of this column will probably not even bother to buy the book even when it languishes in the remainder shops. An afternoon's trawl through your friend' personal archives would turn up more interesting material.