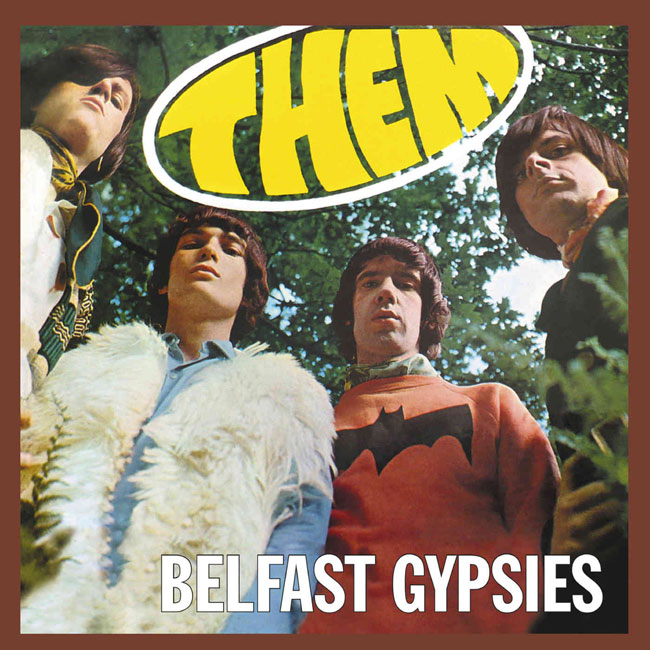 Ok, not quite a reissue. Belfast Gypsies by Them is pretty much a new edition of this cult classic from the mid-1960s.
There is a slightly confusing story behind this one, which has been described as 'a stone-cold classic of rabid British garage punk/R&B' and first saw the light of day briefly back in 1967.
The album was recorded over four sessions in the middle of 1966 in London and Copenhagen, a year or so after brothers Pat (aka John) and Jackie McAuley had left Them and put together a new band of that name. But it was;t that easy.
A court case resulted in the band only able to use the same Then outside the UK, being forced to use the name 'The Other Them' in the UK, although the band were nicknamed The Belfast Gypsies by their producer Kim Fowley.
The master tapes, like many, went missing and little was really known about it for some years. But a 'recent unexpected discovery' of the master tapes for the London recordings (which made up seven of the album's twelve tracks) means that this latest version is a considerable upgrade on past releases in terms of sound quality.
It also adds in the first CD release of pre-Fowley 1966 demo recordings 'I Want You' and an early attempt at 'It's All Over Now, Baby Blue' as well as an alternative mix of 'People! Let's Freak Out' that was issued (without the band's knowing) by Island under the band name The Freaks Of Nature.
On top of that, this new release also features rare photos and memorabilia plus a new 6000-word essay on the band's existence with new quotes from Jackie McAuley as well as reminiscences from the guitarist, the late Ken McLeod.
All the tracklisting details are below. You can preorder ahead of the 26th June release date now, with the price at £10.99.
Find out more at the Amazon website
Oh yes, if you like the look of that Batman logo sweater on the cover, it was recently recreated by Pop Gear.
Track details:
1. GLORIA'S DREAM
2. THE CRAZY WORLD INSIDE ME
3. MIDNIGHT TRAIN
4. ARIA OF THE FALLEN ANGELS
5. IT'S ALL OVER NOW, BABY BLUE
6. PEOPLE LET'S FREAK OUT
7. BOOM BOOM
8. THE LAST WILL AND TESTAMENT
9. PORTLAND TOWN
10. HEY GYP (DIG THE SLOWNESS)
11. SUICIDE SONG
12. SECRET POLICE
BONUS TRACKS:
13. GLORIA'S DREAM (SINGLE MIX)
14. SECRET POLICE (SINGLE MIX)
15. PEOPLE! LET'S FREAK OUT (SINGLE MIX)
16. I WANT YOU
17. IT'S ALL OVER NOW, BABY BLUE (EARLY DEMO)
18. PORTLAND TOWN (FRENCH EP MIX)
19. IT'S ALL OVER NOW, BABY BLUE (FRENCH EP MIX)
20. MIDNIGHT TRAIN (FRENCH EP MIX)
21. THE GORILLA
1-12 The album Them Belfast Gypsies, Swedish Sonet/Grand Prix GP-9923, released August 1967
13-14 Single, US Loma 2051, released July 1966
15 Single, UK Island WI 3017, released (as by The Freaks Of Nature) December 1966
16-17 Demo recordings, recorded February 1966, unissued at the time
18-21 French EP, Vogue INT. 18135, released June 1967