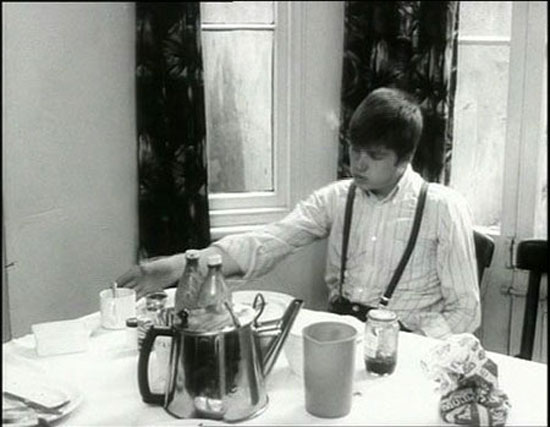 Note that I independently write and research everything in this article. But it may contain affiliate links.
The late '60s cult classic and influential suedehead movie Bronco Bullfrog gets appraised by The Scenester, courtesy of a big-screen outing.
A welcome piece of news comes from the BFI, who have digitally restored the criminally unaired and unavailable 'cult' film Bronco Bullfrog, which will get a long-awaited cinema re- release on 11th June at key venues dotted around the country. Your pal was tempted to the press screening at the mention of the film's name.
I'm guessing that you've either (i) never seen the film, (ii) saw it many years ago, either at the National Film Theatre or some other rep cinema, or on VHS video. Either way, Bronco Bullfrog is probably a distant memory to you, but happily that will soon be corrected.
'Bronco Bullfrog' was made under unusual conditions in the late 1960's by Barney Platts-Mills, in black and white, with very little money and a cast of young non-actors local to the East End of London. True to the tradition of the Joan Littlewood theatre, Barney employed local girls and boys to portray life as lived by young people in a tough and unforgiving working class community. The honesty of this approach is what makes the film so completely absorbing and appealing, that you are willing to forgive some of the technically less than perfect performances and slow scenes that would mar a film if presented by professionals.
The sense of place is strong throughout, initially in the bleak, semi-criminal community that 17 year old apprentice welder Del Quant (Del Walker) and his 15 year old girlfriend Irene Richardson (Anne Gooding) live, later on in the more pleasant, but equally unliveable seaside town the two young lovers elope to.
Del and his friends Roy (Roy Haywood), Chris (Chris Shepherd) and others pass their days sneaking into the cinema via the fire exit, engaging in small turf wars with other boys, lolling around the local greasy spoon café, playing pinball and attempting to chat up girls. They also have a sideline in petty crime; it's one of the more ironic sequences in the film that the boys break into the same café they frequent, and try to steal back what little money they had spent there. They find little worth stealing but cakes, and so look for some other way to raise money.
In such a dull, friendless environment, there is however a hero for them all to look up to. Enter Jo Saville, aka Bronco Bullfrog (Sam Shepherd) a recent escapee from Borstal, whose skills at thieving are the envy of our group of idlers. Jo's incredulous laughter at their recent escapade, resulting only in a handful of cakes for booty, makes them ashamed. Fired up with Jo's tales of life as a petty criminal, a couple of them join in with his next caper, organised by an older young man, robbing goods trains under cover of night.
Even with their somewhat more valuable haul, the crimes do not seem to be motivated by a desperate need for money, more for vicarious thrills, and it's a telling scene later on in the film when we learn that Jo has been unable to unload any of his stolen goods. One of the boys eventually falls foul of a beating, which puts him into hospital, and the Police get involved.
Del seems a very different character to his contemporaries, what with his apprenticeship, his father's kind offer to put some money toward the motorbike Del has been saving to buy, and the appearance of a girl he falls for instantly. Del and Irene's mature performances make for good viewing, capturing the awkwardness of teenage courtship and the problems of finding somewhere they can be alone together.
Like a Romeo & Juliet of Stratford East End, rather than Verona, Del parents are suspicious of Irene as her father is in jail, and Irene's mother rejects Del out of hand, perhaps in an attempt to ensure her daughter doesn't 'get into trouble', regardless of how pleasant the boy may be. Even their stay at Jo's flat is unsatisfactory, as they have to share a bedroom with Jo!
It seems that every door is being slammed in the faces of our star-crossed lovers, and the scene when their trip 'up West' on Del's motorbike is ruined by the cinema admission prices being too expensive for them, then their compromise of a burger meal being looked on as a genuine treat, is very touching. They take a trip to the seaside, and pay a visit to one of Del's relatives, hoping to stay there and settle down together. Their low horizons are not improved by learning that there's little work locally, and Del comes round to the conclusion that he and Irene would be better off where they were. Irene is deeply unhappy at this, but with a possible arrest for child abduction hanging over Del's head, she agrees to return.
The often-grim streets and houses of late 60's London are of he interest to this viewer, and the West End is briefly seen, by way of contrast, and no less amazing. Jo sports a synapse-frying paisley shirt & tie combination I would give my eyeteeth for; no doubt Jo nicked the entire stock!
The conclusion is open-ended and I would recommend sticking with it to see the way it leads up to it.
Released with subtitles in the USA, this film opened in the UK in 1970 to positive reviews, but was pulled from its Cameo Poly showcase 18 days later, to accommodate 'The Three Sisters'. Sam Shepherd organised a 'demo' in response, together with about 200 young East Enders, chanting and jeering as the then 20 year old Princess Anne arrived to see the Laurence Olivier film. The Princess Royal would later accept Sam's invitation to see 'Bronco Bullfrog' at the Mile End ABC.
Regular readers will all know how much of a fan I am of 'realist' cinema, 1960's locations and crime films in general, and this incorporates the lot. If you're looking for thrills and spills, spaceships and explosions and 'celebs', you're definitely looking at the wrong film. But if, like me, you want to see something approaching real life at the sharp end, Bronco Bullfrog is for you. Here's hoping they release a DVD as well, as I've worn my VHS copy out.
Update: Bronco Bullfrog is now available on DVD and Blu-ray. The Blu-ray is something of a bargain right now, selling for £8.99 at Amazon.
Find out more about the Blu-ray at the Amazon website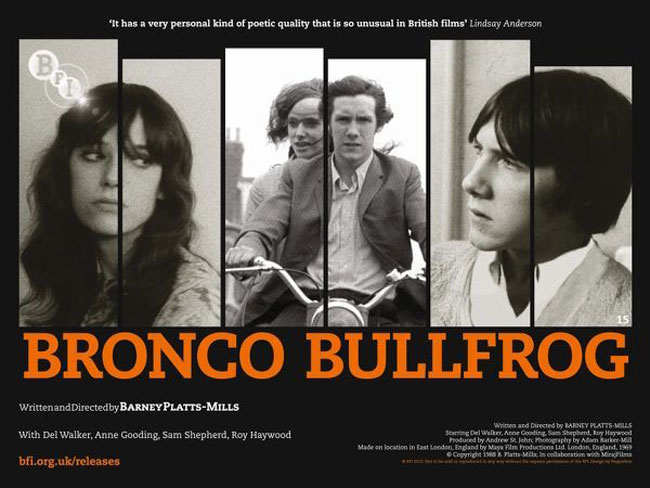 If you are on the hunt for the original film poster, that is no longer available. It was once reissued by the director, but the site has long since closed down. However, you can buy the BFI release poster of Bronco Bullfrog directly from the BFI. The one pictured here. It sells from £21.99. More details can be found here.
Love Modculture? If you enjoy what you read or have benefitted from it and want to
help with the ever-increasing costs of the site and newsletter
, you can always
buy me a coffee at Ko-Fi
. Every penny is helpful and appreciated.