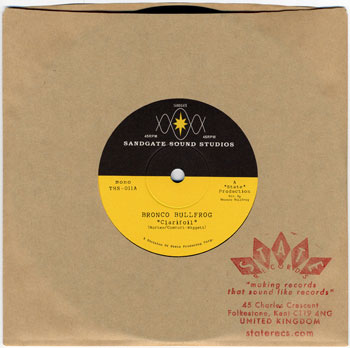 I have a vague recollection of the Bronco Bullfrog name (band-wise) from a few years back, but can't recall ever hearing them. Now, here they are again with the Clarifoil single on State Records.
It's pretty decent too. Sounding like the kind of tune you'd probably find on the soundtrack to an obscure late 60s Brit flick, it's a light and breezy tune that hints a little (but not too much) of The Kinks of that era too. Pretty damn catchy too, which always helps.
On the flip is Never Been To California, which certainly floats around similar ground, albeit with more a US sunshine pop influence. Well, the song references California, what do you expect?
A decent release, one fans of late '60s pop (and vinyl lovers) should lap up.
Find out more at the State Records website