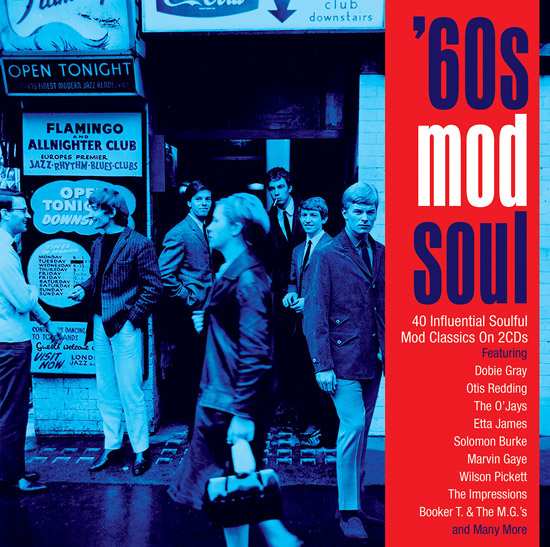 There is one overriding selling point of the upcoming 60s Mod Soul CD set. That's the price tag of this two-disc collection.
It is the work of Not Now Music, a label behind a number of budget collections aimed at the mod market in the past few years. Those include Mod Rhythm and Blues, A Shot of Rhythm and Blues and Mod From The Jazz Side. The rules of these collections are fairly standard – pack in a good number of classics and keep the price down.
That's definitely the case here, with the 60s Mod Soul packing in 40 tracks over two discs, with the vast majority – if not all – likely to be familiar to you. That's really the point. If you are a crate digger, then this isn't really for you. But if you want a pile of dance floor classics, have a look.
In fact, you can have a look at the track listing below for an album that is available to pre-order now ahead of the 16th November release date. The price for the 60s Mod Soul CD set? You can pick this up for just £2.43.
Find out more at the Amazon website
Tracklisting:
Disc 1
1. Harlem Shuffle – Bob & Earl
2. Cry To Me – Solomon Burke
3. How Come – Birdie Green
4. Any Day Now (My Wild Beautiful Bird) – Chuck Jackson
5. You Threw A Lucky Punch – Gene Chandler
6. A Handful Of Memories – Baby Washington
7. Get My Hands On Some Lovin' – Marvin Gaye
8. Oh Lover – Sherri Taylor & Singin Sammy Ward
9. Cleo's Mood – Jr. Walker & The All Stars
10. Gypsy Woman – The Impressions
11. The Parade Of Broken Hearts – The Soul Brothers
12. I Said I Was Sorry – Solomon Burke
13. Take A Giant Step (Walk On) – The Profiles
14. (I Know) Your Love Has Gone Away – The Drapers
15. Barefootin' – Robert Parker
16. Last Night – The Mar-Keys
17. Mighty Good Lovin' – The Miracles
18. Any Other Way – William Bell
19. Jamie – Eddie Holland
20. I'm The One – Jerry Butler
Disc 2
1. The In Crowd – Dobie Gray
2. Night Train – James Brown
3. Watch Your Step – Bobby Parker
4. Can't Take It – The O'Jays
5. You're Too Much – Betty & Ray
6. Something's Got A Hold On Me – Etta James
7. If I Knew Then (What I Know Now) – Maxine Brown
8. Give Our Love A Chance – Ada Ray
9. Shout Bamalama – Otis Redding & The Pinetoppers
10. Green Onions – Booker T. & The M.G.'s
11. Mix It Up – The Marvelettes
12. Chain Gang – Sam Cooke
13. Earthquake – Roy Hamilton
14. I Wonder (If Your Love Will Ever Belong To Me) – The Pentagons
15. Hitch Hike – Marvin Gaye
16. Just For You – Freddie Gorman
17. First Love Baby – Lena Calhoun
18. Money – Barrett Strong
19. My Heart Belongs To You – Wilson Pickett
20. I Am – Roy Hamilton