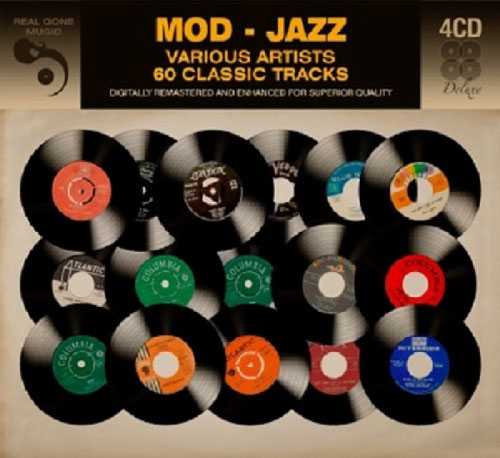 I've seen this on pre-order at Amazon for weeks, if not months, but without much detail. I think I've now managed to put the pieces of this budget Mod Jazz four-CD box set together.
It's from a label called Real Gone Music and it's essentially a collection of the genre. Plenty of big names and big tunes for not much money. Amazon doesn't have a track listing, but we have found one here, which is reproduced below. Not a great deal that you will not know and as such, a good beginner's collection or just all the tracks in one place on disc.
60 tracks in total, all apparently 'Digitally Remastered and Enhanced For Superior Sound Quality'. If you want the box, it is out tomorrow and available from Amazon for just £7.41.
Oh yes, ignore the Amazon reviews, they seem to be for the previous series of (excellent) albums from Ace Records with the same name. All of which are pretty much essential.
Find out more at the Amazon website
Track listing:
CD1
1         Dave Brubeck – Take Five
2         Sam Lazar – Scootin'
3         Tito Puente – Caramelos
4         Mel Torme – Comin' Home Baby
5         the Victor Feldman Quartet – a Taste of Honey
6         Gloria Lynne – the Jazz In You
7         Jimmy McGriff – I've Got a Woman
8         Andre Previn & David Rose – Like Young
9         Lou Rawls & Les McCann – (They Called It) Stormy Monday
10         Johnny Dankworth – Chano
11         Mose Allison – Baby, Please Don't Go
12         Jack McDuff – He's a Real Gone Guy
13         the Vince Guaraldi Trio – Cast Your Fate To the Wind
14         Tubby Hayes – Lady E
15         Herbie Mann – Blues Walk
CD2
1        Jimmy Smith – Walk On the Wild Side
2        Hank Crawford – the Peeper
3        Noble 'Thin Man' Watts – Flap Jack  2
4        Shirley Scott – Sister Sadie
5        Mark Murphy – Why Don't You Do Right
6        Larry Young – Groove Street
7        Googie Rene – Romesville
8        Quincy Jones – Boogie Bossa Nova
9        Sam Lazar – Space Flight
10        Dave Brubeck – Unsquare Dance
11        Wayne Shorter – Black Orpheus
12        King Curtis – Soul Twist
13        Stan Getz & Charlie Byrd – Desafinado
14        Billy Larkin & His Orchestra – That's a Lie
15        Oscar Brown Jr. – Work Song
CD3
1        Jack McDuff – Screamin'
2        Earl Bostic – Sleep
3        King Curtis – Low Down
4        Chris Columbo – You Can't Sit Down
5        Don Wilkerson – Camp Meetin'
6        Bill Doggett – Stop That Twistin' In Here
7        Jimmy Smith – Bashin'
8        Johnny Dankworth – African  Waltz
9        Cozy Cole – Topsy Ii
10        Mel Torme – Right Now
11        Jimmy Witherspoon – Money's Getting' Cheaper
12        Nelson Riddle – Route 66 Theme
13        Booker T & the Mg's – Green Onions
14        Eddie Harris – Exodus
15        Ray Charles – Mess Around
CD4
1        Herbie Hancock – Watermelon Man
2        Cal Tjader – Mamblues
3        Quincy Jones – Soul Bossa Nova
4        Johnny Lytle Trio – Blue Vibes
5        Johnny Griffin Orchestra – Wade In the Water
6        Noble 'Thin Man' Watts – Hard Times
7        Hank Levine – Image Part 1
8        Hank Levine – Image Part 2
9        Jimmy McGriff – All About My Girl
10        Oscar Rown Jr. – Mr Kicks
11        Cannonball Adderley Quartet – Work Song
12        James Booker – Gonzo
13        King Curtis – Something Frantic
14        Charlie Rouse – Samba De Orfeu
15        Dr. Horse – Jack the Hat Was Clean
Save