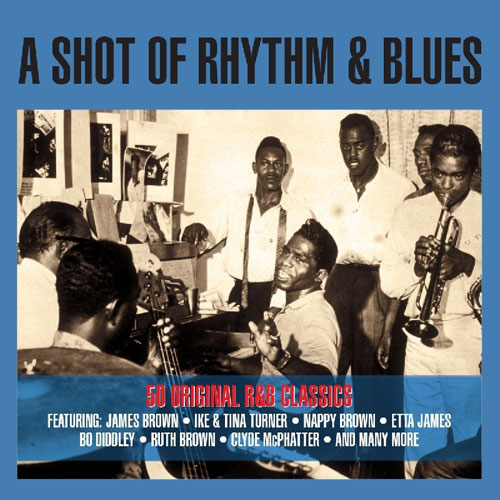 Seen a few albums of this nature from the label, all with one thing in common – plenty of decent tracks for not a lot of money. A Shot Of Rhythm and Blues on Not Now Music keeps up that trend.
This one actually slipped past us, coming out in March. But on the plus side, it does mean it is available to order now. As I said, a lot of tracks and a lot of top notch tracks too. IN fact there are some wonderful soul and R&B tracks from 50+ years ago and a good number of mod floor fillers.
50 tracks in total, all of which are listed below. The price for all of those on a double CD? Just £4.24.
Find out more at the Amazon website
Track listing:
Disc one:
1. A Shot Of Rhythm And Blues – Arthur Alexander
2. Pretty Girls Everywhere – Eugene Church
3. Stop – Clyde McPhatter
4. Every Dog Got His Day – Eddie Bo
5. A Fool In Love – Ike & Tina Turner
6. Next Door To The Blues – Etta James
7. Leave My Kitten Alone – Little Willie John
8. The Walk – Jimmy McCracklin
9. Your Love Keeps A-Working On Me – Lulu Reed
10. I Can Tell – Bo Diddley
11. Don't Be Angry – Nappy Brown
12. Money – The Miracles
13. It's Your Voodoo Working – Charles Sheffield
14. Just A Little Bit – Rosco Gordon
15. Watch Your Step – Bobby Parker
16. I Burned Your Letter – Ruth Brown
17. Thanks Mr Postman – Bobby King
18. I'm A Little Mixed Up – Betty James
19. I've Been Abused – Howlin' Wolf
20. Your Mamma Know's What's Right – Baby Washington
21. Confession Of Love – The Del Vikings
22. Humpty Dumpty Heart – Lavern Baker
23. Fortune Teller – Benny Spellman
24. Trick Bag – Earl King
25. The Treasure Untold – Buddy Guy
Disc: 2
1. Broke and Lonely – Johnny (Guitar) Watson
2. Seven Day Fool – Etta James
3. This Morning – Albert King
4. You Can't Judge A Book By It's Cover – Bo Diddley
5. Send Me Somebody – El Pauling And Royal Abbit
6. Night Train – James Brown
7. Love Me Right – Lavern Baker
8. I Aint Goin' For That – Eugene Church
9. Little By Little – Nappy Brown
10. Hush Heart – Baby Washington
11. Have Love Will Travel – Richard Berry & The Pharaohs
12. Come To Me – Marv Johnson
13. Tomorrow Is A-Comin' – Clyde McPhatter
14. Somebody Touched Me – Ruth Brown
15. My Babe – Little Walter
16. Humdinger – Aaron Neville
17. Over And Over – Thurston Harris
18. Work With Me Annie – Hank Ballard & The Midnighters
19. A Help-Each-Other Romance – Lavern Baker & Ben E King
20. Let Nobody Love You – Little Willie John
21. Come On Let's Have A Good Time – El Pauling And Royal Abbit
22. Hold It – Bill Doggett
23. Don't Mess With My Man – Irma Thomas
24. You Can't Hide – Freddy King & Lulu Reed
25. Steal Your Heart Away – Bobby Parker