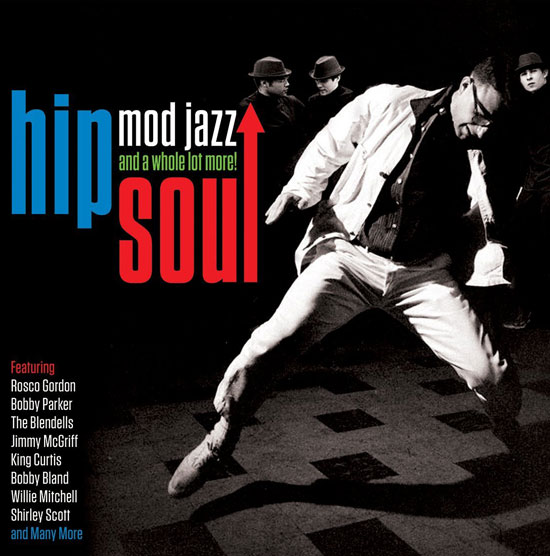 I think it might be a bit oversold on the cover, but the Hip Soul double CD looks good value regardless.
A double CD, 40 tracks and for just over a fiver. That sounds fair enough. As for the tracks, well the cover perhaps hints at a load of mod jazz floor fillers. Looking at the track listing, that's not the case. This is a (very) mixed bag.
Yes, there are some big names here, but the music looks to be a mix of R&B, hammond, jazz and soul, as well as tracks are club plays plus tunes that are probably better described as slower, late night grooves.
That's always the case with this type of compilation. This one just seems more eclectic than most. Anyway, have a look at the track listing below and if you want it, you can pre-order now for just £5.62.
Find out more at the Amazon website
Track listing:
Disc 1:
1. Hip Soul – Shirley Scott
2. Green Onions – Tom And Jerry
3. Willie Jean – Jimmy Drew
4. Just A Little Bit – Rosco Gordon
5. Cool Turkey – James Booker
6. The Work Song – Tommy Hunt
7. Night Train – King Curtis
8. My Book – Bruce Cloud
9. I'm Gonna Go Fishin' – Peggy Lee
10. Fever – Eddie Cooley
11. Watch Your Step – Bobby Parker
12. Crawl (Part 1) – Willie Mitchell
13. You Came A Long Way From St. Louis – Etta Jones
14. Take Five – Carmen McRae & Dave Brubeck
15. The Search Goes On – Trini Lopez
16. One Mint Julep – Sarah Vaughan
17. Baby Lou – Jimmy Drew
18. 36 – 22
19. Teasin' – Jon Thomas
20. La La La La La – The Blendells
Disc 2:
1. I've Arrived – Steve Flanagan
2. She's My Witch – Kip Tyler
3. Scootin' – Sam Lazar
4. Rough Lover – Aretha Franklin
5. Cool – Cal Tjader
6. Mr Kicks – Eldee Young
7. Roarin' – Red Price & The Blue Beats
8. I Can't Sit Down – Booker T. & The M.G.s
9. The Point – Mac Rebennack
10. Señor Blues – Horace Silver Quintet
11. My Girl Josephine – Bill Black's Combo
12. (They Call It) Stormy Monday – Lou Rawls And Les McCann Ltd
13. Sermon – Jimmy McGriff
14. Red Pepper I – Roosevelt Fountain And Pens Of Rhythm
15. Hey Fool – Brenda Holloway
16. Let's Slip Away – Cleo Laine
17. What'd I Say – King Curtis
18. Desafinado – Stan Getz & Charlie Byrd
19. Gonzo – James Booker
20. Boomada – Les Baxter