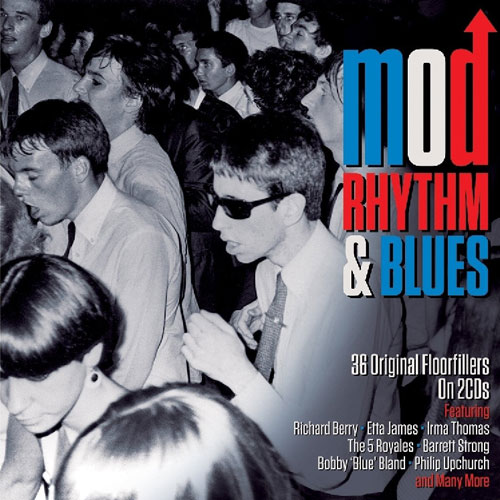 Another of those budget comps that pack in a lot of decent tracks for a modest outlay. This time it's Mod Rhythm & Blues.
Basically, it's really about two things here. Firstly, if you buy CDs and secondly, if you already own the majority of these tracks. If you do, it's likely a pass, but if you don't own a lot of these tunes, they are worth picking up.
It's a 'starter' album for mod dance floor sounds. 36 for around a fiver. The full track listing is below if you want to check them off and if you decide you want it, the album is on pre-order now ahead of 18th August release, selling for £5.28.
Find out more at the Amazon website
Track listing:
Disc 1
1. Have Love Will Travel – Richard Berry
2. I'm A Little Mixed Up – Betty James
3. A Fool In Love – Ike & Tina Turner
4. Seven Day Fool – Etta James
5. Love Me Right – LaVern Baker
6. He Knows The Rules – Jimmy McCracklin
7. It's Your Voodoo Working – Charles Sheffield
8. That's A Pretty Good Love – Big Maybelle
9. Thanks Mr Postman – Bobby King
10. Misery – Barrett Strong
11. You Got Me (Where You Want Me) – Bobby 'Blue' Bland
12. I'm A Woman (But I Don't Talk Too Much) – Lula Reed
13. Comin' Home Baby – Mel Tormé
14. It Hurts Inside – The 5 Royales
15. I'm On My Way – Patience Valentine
16. To Be Loved By You – Marie Knight
17. Let Me Be Your Boy – Wilson Pickett
18. Messin' With The Man – Muddy Waters
Disc 2
1. Don't Mess With My Man – Irma Thomas
2. Fortune Teller – Benny Spellman
3. Jinny Mule – Big Maybelle
4. A Help – Each
5. If You Don't Come (You Better Call) – Patience Valentine
6. Cry To Me – Solomon Burke
7. Blues For Me – B.B. King
8. I'm Tore Down – Freddy King
9. First Love Baby – Lena Calhoun
10. Chills And Fever – Ronnie Love
11. Leave My Kitten Alone – Little Willie John
12. Oh Johnny – Baby Jean
13. Pretty Girls Everywhere – Eugene Church
14. It's Easy Child – Lula Reed & Freddy King
15. Catch That Teardrop The 5 Royales
16. Broke and Lonely Johnny 'Guitar' Watson
17. You Can't Sit Down Pt.1 – Philip Upchurch Combo
18. You Can't Sit Down Pt.2 – Philip Upchurch Combo