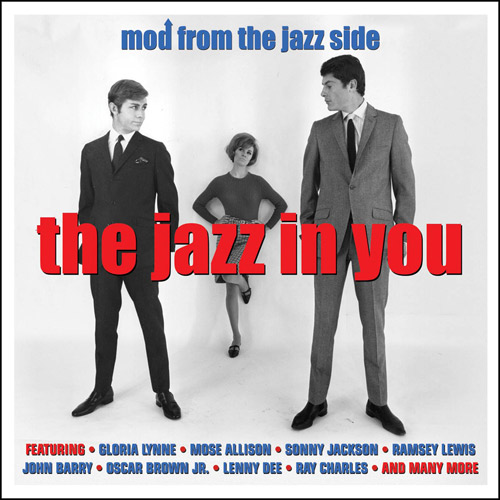 If you recall or indeed own the Walk On The Wild Side – The Jazz Side Of Mod collection, then you might be interested in The Jazz In You – Mod From The Jazz Side.
It's another compilation from the same label (Not Now Music) and follows a vaguely similar path. That's two discs of tunes for under a fiver.
As we said last time, that probably means you don't get the insight and expertise of someone like Ace Records for the sleeve notes, but it does mean plenty of tunes for your money.
In this case it looks like a selection of jazz tracks that pre-date mod's 'overground' years of the early to mid-1960s, with this collection pulling together tunes from 1954 and 1962 and featuring the likes of Nancy Wilson, MJQ, Mose Allison, Hank Levine, Booker T, Ramsey Lewis and more.
You can see all 40 tunes included below and if you fancy it, the album is out next week, but available to pre-order now. The price is £4.95.
Find out more about the CD at the Amazon website
Track listing:
Disc 1:
1. The Jazz In You – Gloria Lynne
2. Bag's Groove – Modern Jazz Quartet
3. I'm A Woman – Peggy Lee
4. Image (Part 2) – Hank Levine
5. Young Man Blues – Mose Allison
6. Theme From Route 66 – Nelson Riddle Orchestra
7. My Babe – Sonny Jackson
8. The Work Song – Nat Adderley
9. (They Call It) Stormy Monday – Lou Rawls with Les McCann
10. Swingin' At Sugar Ray's – Baby Face Willette
11. Take the Last Train Home – King Curtis & the Shirelles
12. Little Liza Jane – Ramsey Lewis Trio
13. Let's Have A Natural Ball – Albert King
14. The Peeper – Hank Crawford
15. Green Door – Eskew Reeder
16. Jelly Bread – Booker T. and the M.G.'s
17. Never Will I Marry – Nancy Wilson with Cannonball Adderley
18. Steppin' Out – Memphis Slim
19. Night And Day – Frances Faye
20. Space Flight – Sam Lazar with Grant Green
Disc 2:
1. Beat For Beatniks – John Barry
2. Groove Street – Larry Young
3. Hazel's Hips – Oscar Brown Jr.
4. I'm A King Bee – Slim Harpo
5. Bashin' – Jimmy Smith
6. Your Mind Is On Vacation – Mose Allison
7. Hold It – Bill Doggett
8. My Baby – Ken Nordine and the Fred Katz Group
9. Decisions – Ramsey Lewis
10. Hide Nor Hair – Ray Charles
11. Sleep – Earl Bostic
12. Work Song – Nina Simone
13. Mamblues – Cal Tjader
14. Black Coffee – Julie London
15. Plantation Boogie – Lenny Dee
16. Moanin' – Bobby Scott
17. Willie's House Party – Willie Mitchell
18. It Ain't Right – Little Walter
19. Little Susie (Part 4) – Ray Bryant
20. Hey, Mrs. Jones – Jimmy Witherspoon