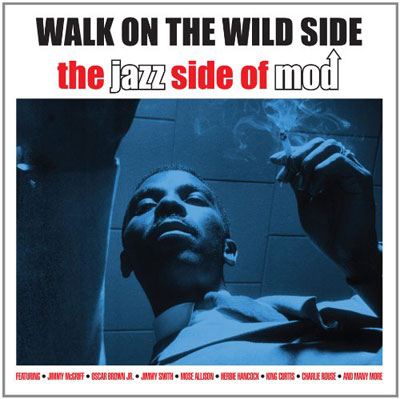 Thanks to Ady for flagging up what a first glance could be something out of the Mod Jazz series from Ace Records. But let's be clear, this is not an Ace / Kent release, it's a fairly budget collection called Walk On The Wild Side – The Jazz Side Of Mod – released via a label called Not Now Music.
No, not heard of it either. But let's not write it off, as the tracklisting looks pretty decent. It's pitched as a sound of the early mod scene compilation, with plenty of big-name tracks here. The likes of I've Got A Woman (Part 1) by Jimmy McGriff, Mark Murphy's Why Don't You Do Right?, Mose Allison's Parchman Farm and Oscar Brown Jr's Work Song for example. But if you want an introduction to the mod side of jazz, that's no bad thing.
It's also no bad thing that you get 32 tracks for £4.99. It certainly doesn't replace the Mod Jazz series, which gives you the insight and experience of the team from Ace both in track selection and sleevenotes. But it does open a door at a decent price. Tracklisting below.
Find out more at the Amazon website
Tracklisting:
Disc: 1
1. Walk On The Wild Side – Jimmy Smith
2. Low Down – King Curtis
3. Watermelon Man – Herbie Hancock
4. Swingin' Machine – Mose Allison
5. All About My Girl – Jimmy McGriff
6. He's A Real Gone Guy – Brother Jack McDuff
7. Work Song – Oscar Brown Jr.
8. Blues Walk – Herbie Mann
9. Strange Meeting – Kenny Clarke & Francy Boland
10. Somebody Loves Me – Jimmy Smith
11. Romesville – Googie René
12. Black Orpheus – Wayne Shorter
13. Comin' Home Baby – Mel Tormé
14. Flap Jack – Noble "Thin Man" Watts
15. Why Don't You Do Right? – Mark Murphy
16. Boogie Bossa Nova – Quincy Jones & His Orchestra
Disc: 2
1. Soul Bossa Nova – Quincy Jones & His Orchestra
2. Rebecca – Googie René
3. I've Got A Woman (Part 1) – Jimmy McGriff
4. The Madison Time – The Ray Bryant Combo
5. Mr. Kicks – Oscar Brown Jr.
6. B.N. Blues – Herbie Mann
7. Right Now – Mel Tormé
8. Parchman Farm – Mose Allison
9. Something Frantic – King Curtis
10. Mo' Onions – Booker T. & The M.G.'s
11. Samba De Orfeu – Charlie Rouse
12. Money's Gettin' Cheaper – Jimmy Witherspoon
13. Hot Tamales – Noble "Thin Man" Watts
14. You're The Boss – Lavern Baker & Jimmy Ricks
15. Screamin' – Jack McDuff
16. Stop That Twistin' In Here – Bill Doggett