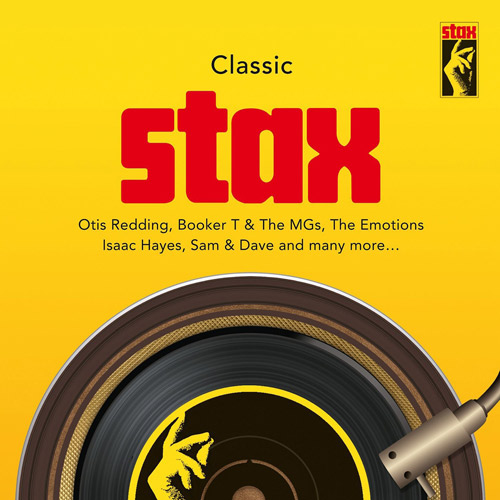 Just noticed this has been released today – the Classic Stax box set.
It isn't anything more than it promises. But it definitely lives up to the title.
All the classics are here, Booker T, Otis Redding, Sam and Dave, Eddie Floyd, you know the score. All the tracks you associate with the label too. 60 tracks in total over three discs and selling for a budget £6.99. Can't argue with that. Full track listing below.
Find out more at the Amazon website
Disc: 1
1. Theme From Shaft – Isaac Hayes
2. Soul Man – Sam & Dave
3. Green Onions – Booker T & The MG's
4. Soul Finger – The Bar-Kays
5. So I Can Love You – The Emotions
6. Walking The Dog – Rufus Thomas, Jr.
7. Tramp – Otis Redding
8. I'll Take You There – The Staple Singers
9. (Sittin' On) The Dock Of The Bay – Otis Redding
10. What A Man – Linda Lyndell
11. Bring It On Home To Me – Eddie Floyd
12. Your Sweet Lovin' – Margie Joseph
13. I'll Be The Other Woman – The Soul Children
14. Last Night – The Mar-Keys
15. Who's Making Love – Johnnie Taylor
16. In The Rain – The Dramatics
17. Bring It Home (And Give It To Me) – Hot Sauce
18. Born Under A Bad Sign – Albert King
19. Pick Up The Pieces – Carla Thomas
20. I've Been Loving You Too Long – Otis Redding
Disc: 2
1. Knock On Wood – Eddie Floyd
2. Hold On I'm Coming – Sam & Dave
3. Whatcha See Is Whatcha Get – The Dramatics
4. If You're Ready (Come Go With Me) – The Staple Singers
5. Do Your Thing – Isaac Hayes
6. B-A-B-Y – Carla Thomas
7. If I Give It Up, I Want It Back – David Porter
8. Stealing Love – The Emotions
9. Soul Limbo – Booker T & The MG's
10. Cheaper To Keep Her – Johnnie Taylor
11. Son Of Shaft – The Bar-Kays
12. I Want Someone – The Mad Lads
13. I'll Run Your Heart Away – Ruby Johnson
14. The Breakdown – Rufus Thomas, Jr.
15. Private Number – William Bell, Judy Clay
16. Candy – The Astors
17. Mini-Skirt Minnie – Sir Mack Rice
18. Philly Dog – The Mar-Keys
19. I Got To Be Myself – Rance Allen Group
20. Try A Little Tenderness – Otis Redding
Disc: 3
1. Respect Yourself – The Staple Singers
2. Ghetto: Misfortune's Wealth – 24 Carat Black
3. Jody's Got Your Girl And Gone – Johnnie Taylor
4. Hard To Handle – Otis Redding
5. Never Can Say Goodbye – Isaac Hayes
6. Hearsay – The Soul Children
7. Gee Whiz (Look At His Eyes) – Carla Thomas
8. When Something Is Wrong With My Baby – Sam & Dave
9. (Do The) Push And Pull – Rufus Thomas, Jr.
10. Time Is Tight – Booker T & The MG's
11. Show Me How – The Emotions
12. Starting All Over Again – Mel & Tim
13. Mr. Big Stuff – Jean Knight
14. I've Never Found A Girl (To Love Me Like You Do) – Eddie Floyd
15. Your Good Thing (Is About To End) – Mable John
16. Don't Have To Shop Around – The Mad Lads
17. Soothe Me – Sam & Dave
18. You Can't Run Away From Your Heart – Judy Clay
19. After Laughter (Comes Tears) – Wendy Rene
20. A Tribute To A King – William Bell