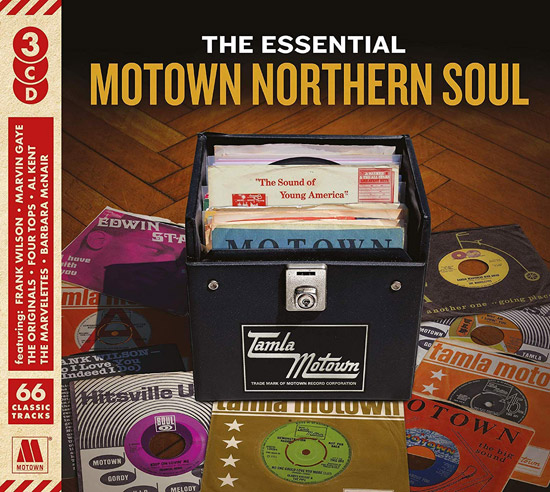 Note that I independently write and research everything in this article. But it may contain affiliate links.
Another budget collection I missed, with the Essential Motown Northern Soul box set now just on the shelves.
Again, this is one of those boxes that contains a lot of music for not a lot of cash. 66 tracks for under a fiver, which isn't a bad rate at all.
But this collection is a little over and above a lot of these budget sets. For a start, there are well known tunes on here, but there are also a few you might not know (unless you are an aficionado of the label). Tracks that have previously been on rarity sets and in the 7-inch Motown boxes for example.
That might be down to the set being compiled by (I believe) Richard Searling, the former Wigan Casino DJ and northern soul specialist and collector. His input has definitely added some depth to what could have been the usual re-run of obvious tunes.
You can see all the tracks below and if you want a copy, the box set is available right now for just £4.99. Great value.
Find out more about the CD at the Amazon website
CD ONE
1. Do I Love You (Indeed I Do) – Frank Wilson
2. Can't Hold The Feeling Back – Brenda Holloway
3. Show Me The Way – J.J. Barnes
4. Something About You – Four Tops
5. Something's Wrong – Chris Clark
6. This Love Starved Heart Of Mine (It's Killing Me) – Marvin Gaye
7. Why Am I Lovin' You – Debbie Dean
8. What More Could A Boy Ask For – The Spinners
9. Stormy – Diana Ross & The Supremes
10. Suspicion – The Originals
11. All I Do Is Think About You – Tammi Terrell
12. He Who Picks A Rose – Jimmy Ruffin
13. You Hit Me Where It Hurt Me – Kim Weston
14. Angel Doll – The Temptations
15. It Happens Every Time – Barbara McNair
16. I Want My Baby Back – Stevie Wonder
17. If You Ever Get Your Hands On Love – Gladys Knight & The Pips
18. I've Been Cheated – The Dalton Boys
19. 6 By 6 – Earl Van Dyke And The Motown Brass
20. Take Him Back If It Makes You Happy – The Contours
21. I Can't Be Hurt Anymore – David Ruffin
22. I've Gotta Get Away – Tommy Good
CD TWO
1. Tell Me It's Just A Rumor Baby – The Isley Brothers
2. Lonely, Lonely Girl Am I – The Velvelettes
3. It's Gonna Take A Whole Lot Of Doin' – David Ruffin
4. No One Could Love You More – Gladys Knight & The Pips
5. Forever In My Heart – The Temptations
6. You Can Do It – Kim Weston
7. I'm Grateful – Four tops
8. The Touch Of Venus – Patrice Holloway
9. We're Gonna Be More Than Friends – The Spinners
10. We'll Keep On Rolling – Brenda Holloway
11. My Love For You – Marvin Gaye
12. Your Love Can Save Me – The Marvelettes
13. Don't Stop Now – The Originals
14. Sometimes I Have To Cry – The Contours
15. The Stranger – Gladys Knight & The Pips
16. Give In, You Just Can't Win – Tammi Terrell
17. Nothing's Too Good For My Baby – Stevie Wonder
18. You've Got To Pay The Price – The Supremes
19. On The Avenue (In The Neighborhood) – Jimmy Ruffin
20. I Ain't Going Nowhere – Thelma Houston
21. That's A Funny Way – The Velvelettes
22. I Know Better – Barbara McNair
CD THREE
1. I Have Faith In You – Edwin Starr
2. Share A Little Love With Me (Somebody) – The Monitors
3. The Way You Been Acting Lately – Al Kent
4. Keep On Lovin' Me – Frances Nero
5. It's Not Unusual – Marvin Gaye
6. Ain't You Glad You Chose Love – Gladys knight & The Pips
7. A Tear From A Woman's Eyes – The Temptations
8. Danger Heartbreak Dead Ahead – The Marvelettes
9. Clip My Wings – Four Tops
10. I'm Gonna Make It Up To You – Kim Weston
11. Sweet Thing – Marvin Gaye
12. We'll Be Satisfied – Marvin Gaye & Tammi Terrell
13. Baby A Go-Go – Barbara McNair
14. Baby Come Home To Me – Shorty Long
15. The "In" Crowd – Jimmy Ruffin
16. Head Over Heels In Love With You Baby – The Spinners
17. You Got The Love I Need – The Undisputed Truth
18. Don't Be Afraid – Bobby Taylor
19. Crying In The Night – The Monitors
20. Sunny – Marvin Gaye
21. Tell Me How To Forget A True Love – The Spinners
22. After The Rain – Kim Weston
Love Modculture? If you enjoy what you read or have benefitted from it and want to
help with the ever-increasing costs of the site and newsletter
, you can always
buy me a coffee at Ko-Fi
. Every penny is helpful and appreciated.