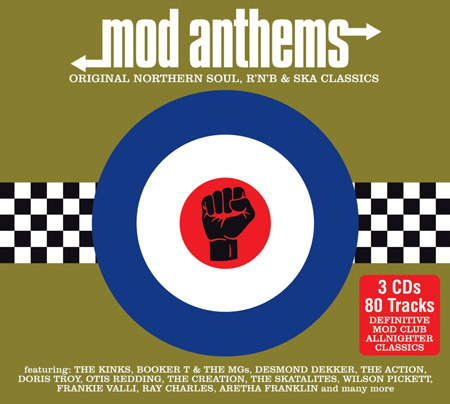 A lot of these budget users are usually from lesser known labels. But the upcoming Mod Anthems box set is on Rhino. Which is obviously a good thing.
Rhino has a great track record on quality product and a glance at the track listing of this set suggests that very thing. Yes, it'a all very obvious material on here. But there's little filler and if you want a spectrum of mod sounds for a reasonable amount of money, this could be for you.
Three discs, 80 tracks and a price of £6.99. Can't really argue with that. Tracklisitng below and the set is available to pre-order now, with a release date of 18th May 2015.
Find out more at the Amazon website
Disc: 1
1. Green Onions – Booker T. & The Mg'S
2. You Really Got Me – The Kinks
3. In The Midnight Hour – Wilson Pickett
4. Guns Of Navarone – The Skatalites
5. Last Night – The Mar-Keys
6. I'm Gonna Run Away From You – Tami Lynn
7. Respect – Otis Redding
8. Nothing Can Stop Me – Gene Chandler
9. What'Cha Gonna Do About It – Doris Troy
10. Mercy, Mercy – Don Covay
11. Seventh Son – Mose Allison
12. Comin' Home Baby – Mel Torme
13. My Girl Sloopy (2007 Remastered Version) – The Vibrations
14. If You Don't Come Back – The Drifters
15. Blazing Fire – Derrick Morgan
16. I'm In The Mood For Ska (A.K.A. I'm In The Mood For Love) – Lord Tanamo
17. Walking The Dog – Rufus Thomas
18. What'd I Say, Pt. 1 – Ray Charles
19. Some Other Guy – Richie Barrett
20. Everybody Needs Somebody To Love – Solomon Burke
21. Candy – The Astors
22. Chain Of Fools – Aretha Franklin
23. You Forgot How To Love – Patti Labelle & The Bluebells
24. Walkin' Up A One Way Street – Willie Tee
25. You Said You Loved Me – Deon Jackson
26. Just Say Goodbye – Esther Phillips
27. Walk On By – Dionne Warwick
Disc: 2
1. You're Ready Now (2007 Remastered Version) – Frankie Valli
2. Cool Jerk – The Capitols
3. Crazy Baby – The Coasters
4. Sweet Soul Music – Arthur Conley
5. I'll Keep Holding On – The Action
6. Making Time – The Creation
7. Hold On (I'm Coming) [Mono] [1998 Remastered Version] – Cliff Bennett & The Rebel Rousers
8. Sock It To 'Em J.B. – Rex Garvin & The Mighty Cravers
9. 0.0.7 (Shanty Town) – Desmond Dekker & The Aces
10. Knucklehead – The Bar-Kays
11. Memphis Soul Stew – King Curtis
12. You Don't Know Like I Know – Sam & Dave
13. See Saw – Don Covay & The Goodtimers
14. Number One In Your Heart – Herbie Goins & Nightimers
15. I'll Do Anything – Doris Troy
16. Skiing In The Snow – The Invitations
17. I Can't Break The News To Myself – Ben E. King
18. Somebody (Somewhere) Needs Me – Ike & Tina Turner
19. Love Makes The World Go Round – Deon Jackson
20. Heart Of A Child – Percy Sledge
21. The Sidewinder – Herbie Mann & Tamiko Jones
22. Making Love After Hours – Rahsaan Roland Kirk
23. Can't You See (You're Losing Me) – Mary Wells
24. I Got My Baby Back – Lorraine Ellison
25. Open The Door To Your Heart – Darrell Banks
26. Mr. Creator – The Apollas
27. I'll Be Loving You – Soul Brothers Six
Disc: 3
1. Here I Go Again – Archie Bell And The Drells
2. Seven Days Too Long – Chuck Wood
3. You Hit Me (Right Where It Hurt Me) – Alice Clark
4. Everything's Tuesday – Chairmen Of The Board
5. Ain't Nothing But A House Party – Showstoppers
6. Ali Baba – John Holt
7. Big Bird – Eddie Floyd
8. You're Losing Me – Barbara Lynn
9. Liquidator – Harry J Allstars
10. Looking For A Fox – Clarence Carter
11. Some Kind Of Wonderful – Soul Brothers Six
12. My Heart Needs A Break – Linda Jones
13. Angel Baby (Don't You Ever Leave Me) – Darrell Banks
14. Got To Find A Way – Cajun Hart
15. Long Shot Kick De Bucket – The Pioneers
16. The Return Of The Prodigal Son – Freddie Hubbard
17. Compared To What – Les Mccann
18. Girl, You're My Kind Of People – The Olympics
19. Take Your Love And Run – Barbara Lynn
20. Something New To Do – Bobby Sheen
21. Both Ends Against The Middle – Jackie Moore
22. Please Operator – Tony & Tyrone
23. Kiss My Love Goodbye – Bettye Swann
24. Fragile, Handle With Care – Sam Dees
25. You Got To Pay Your Dues – The Drifters
26. I'm So Happy – Prince Phillip Mitchell
Save