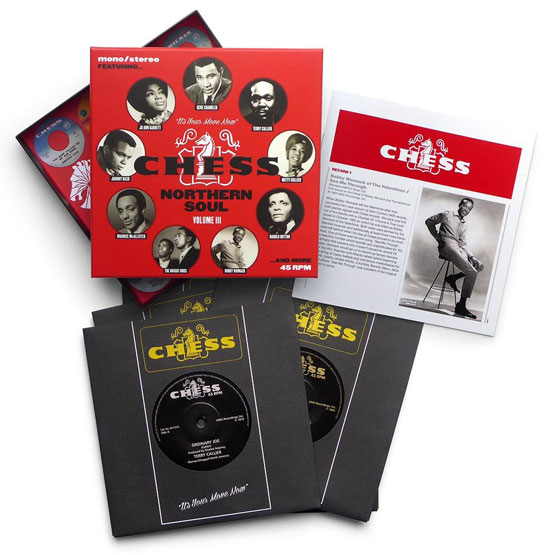 This is actually out tomorrow, so get your order in now for the Chess Northern Soul Volume 3 vinyl box set if you want it.
Of course, this is the third instalment of a series (you can read about volume 2 here and volume 1 here), with the new box following much the same formula.
This is a 7 x 7inch vinyl set, with the tracks sourced from the iconic Chess, Checker, Cadet and Argo labels, all with an eye on the dance floor. Each track comes in a replica UK Chess livery (black/silver and black/gold labels in a black and yellow label sleeve) and in a presentation box with an 8-page leaflet featuring detailed notes by compiler Ady Croasdell, a man who needs no introduction, Each one is also individually numbered and includes a download card.
Standouts include Maurice McAlister's stormer 'Baby Hang On', Mitty Coiller's 'Pain' (a popcorn and later mod favourite), Harold Hutton's 'Lucky Boy' (an in demand 'shaker' from 1965, a first time on 7" appearance for Bobby Womack's 'See Me Through', Jo Ann Garrett's 'Foolish Me' (a popular LP dance track and now on a 7" single) Terry Callier's sublime and ultra-rare 'Ordinary Joe' and the super-obscure 'Wait' by Jeanette Nellis, described as a 'holy grail rarity' from 1963, with only a couple of known original pressings in the hands of collectors.
Want the full listing? See below. As I said, the box gets an official release tomorrow and as ever, it isn't a cheap option. If you want the Chess Northern Soul Volume 3 vinyl box set, you can get it for £57.53.
Find out more at the Amazon website
Track listing:
RECORD ONE
A – Bobby Womack of The Valentinos – See Me Through (1965) (first time on 7")
B – Joe Cato – I'm So Glad (1967
RECORD TWO
A – Jeanette Nellis – Wait (1963)
B – Amanda Love – You Keep Calling Me By Her Name (1967)
RECORD THREE
A – The Starlets – Loving You Is Something New (1967)
B – Gene Chandler – Such A Pretty Thing (1966)
RECORD FOUR
A – Terry Callier – Ordinary Joe (1972)
B – Maurice McAllister – Baby Hang On (1967)
RECORD FIVE
A – Mitty Collier – Pain (1963)
B – The Knight Brothers – City Life (1964)
RECORD SIX
A – The Kindly Shepherds – Lend Me Your Hand (1967)
B – Harold Hutton – Lucky Boy (1965)
RECORD SEVEN
A – Jo Ann Garrett – Foolish Me (1969) (first time on 7")
B – Johnny Nash – Love Ain't Nithin' (1964)