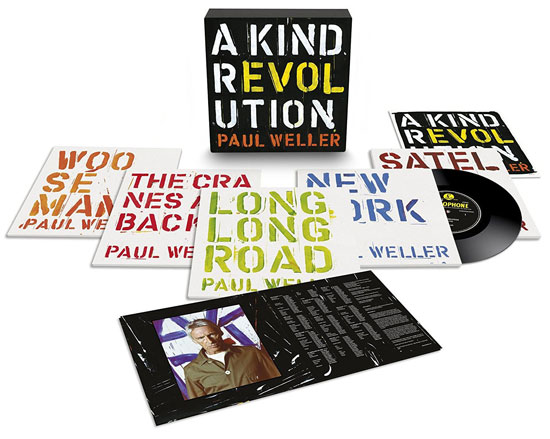 Of course, you know the new album is coming out, but just in case you missed it, there is also a Paul Weller – A Kind Revolution box set.
It's a 10-inch vinyl box set (pictured above), with the album pressed over five records, each with individual artwork. You also get a 10-inch art print, lyric booklet and if you haven't got a record player to hand, all 29 tracks from the three-CD deluxe set as an MP3 download too. The track listing for that three-CD set is below.
But it does cost compared to standard versions. £74.99 to be precise. You can pre-order now ahead of the 12th May 2017 release date.
Find out more at the Amazon website
A Kind Revolution 3CD set tracks:
Disc: 1
1. Woo Se Mama
2. Nova
3. Long Long Road
4. She Moves with the Fayre
5. The Cranes are Back
6. Hopper
7. New York
8. One Tear
9. Satellite Kid
10. The Impossible Idea
Disc: 2
1. Woo Se Mama (Instrumental)
2. Nova (Instrumental)
3. Long Long Road (Instrumental)
4. She Moves with the Fayre (Instrumental)
5. The Cranes are Back (Instrumental)
6. Hopper (Instrumental)
7. New York (Instrumental)
8. One Tear (Instrumental)
9. Satellite Kid (Instrumental)
10. The Impossible Idea (Instrumental)
Disc: 3
1. Alpha
2. She Moves with the Fayre (Villagers Remix)
3. New York (Nightwatch) [Prof. Kybert Remix]
4. Nova (Toy Remix)
5. One Tear (Club Cut) [Prof. Kybert Remix]
6. Hopper (White Label Remix)
7. Satellite Kid (Syd Arthur Remix)
8. She Moves with the Fayre (Breakdown Instrumental) [Prof. Kybert Remix]
9. Woo Se Mama (E & TC Remix)
Save