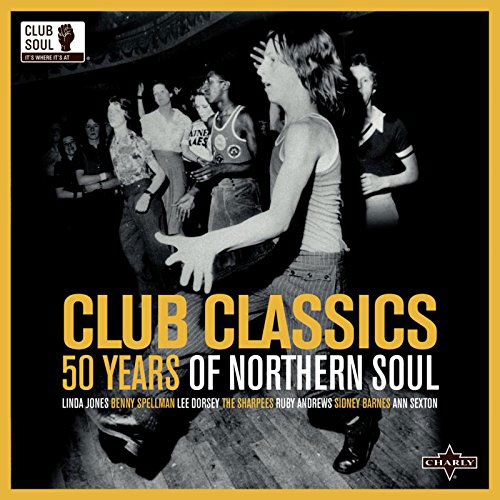 Fancy an overview of classic soul? If vinyl is your preferred format, you might want to check out Club Classics: 50 Years of Northern Soul, which is a double album set from Charly.
Just up for pre-order, it boldly proclaims itself as the 'ultimate introduction to Northern Soul', with 'introduction being the key word there. This isn't one for the crate diggers and collectors. Although at the same time, it isn't all overplayed tracks. There's something of a balance here.
What I'm saying is that if you want to come to Northern Soul fresh, it might be worth a closer inspection. But probably not one for the aficionado.
70 minutes of classics (28 tracks in total over two discs), all of which have been newly remastered from the original master tapes for the first time. Presumably some kind of booklet or write-up here too, although that isn't mentioned in the initial details.
What we do have is a track listing, which is outlined below. Oh yes, a release date too, which is 29th June 2018. If you want to pre-order, the price is £23.99.
Find out more at the Amazon website
Track listing:
Side 1
1. Linda Jones "You Hit Me Like T.N.T." ( 02:14 )
2. Benny Spellman "Fortune Teller" ( 02:10 )
3. Clarence Murray "Don't Talk Like That" ( 02:35 )
4. Little Richie "Just Another Heartache" ( 02:41 )
5. Alvin Cash & The The Crawlers "Twine Time" ( 02:20 )
6. Lee Dorsey "Ride Your Pony" ( 02:57 )
7. The C.O.D.'S "Michael" ( 02:43 )
Side 2
1. The Du-ettes "Every Beat Of My Heart" ( 02:44 )
2. The Sharpees "Do The 45" ( 02:32 )
3. Joe Simon "The Girl's Alright With Me" ( 02:02 )
4. Johnny Dynamite "The Night The Angels Cried" ( 02:43 )
5. The Ad Libs "Nothing's Worde Than Being Alone" ( 02:40 )
6. Van McCoy "Sweet And Easy" ( 02:29 )
7. Ruby Andrews "Just Loving You" ( 02:51 )
Side 3
1. Sidney Barnes "I Hurt On The Other Side" ( 02:35 )
2. Lydia Marcelle "It's Not Like You" ( 02:03 )
3. Jerry Williams "If You Aks Me ( Because I Love You )" ( 02:44 )
4. Maurice Williams & The Zodiacs "Being Without You" ( 02:23 )
5. Bob Wilson "Suzy's Serenade" ( 02:12 )
6. Jerry Fuller "Double Life" ( 03:00 )
7. Ron Holden "I'll Forgive And Forget" ( 02:12 )
Side 4
1. Blanch Carter "Halos Are For Angels" ( 03:27 )
2. The Electrifying Cashmeres "What Does It Take ( To Win Your Love )" ( 03:07 )
3. Connie Laverne "Can't Live Without You" ( 03:12 )
4. The Anderson Brothers "I Can See Him Loving You" ( 02:49 )
5. Ann Sexton "You've Been Gone Too Long" ( 02:19 )
6. Gil Scott-Heron & Brian Jackson "The Bottle" ( 05:16 )
7. Skull Snaps "I'm Your Pimp" ( 04:02 )