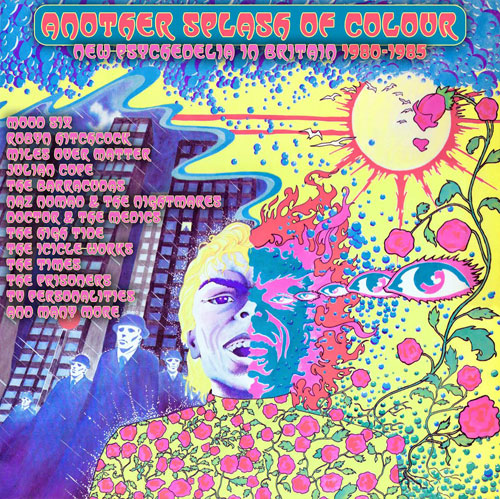 Been looking forward to this box set for a long time and now we have the full details of Another Splash Of Colour – New Psychedelia in Britain 1980 – 1985 box set, released via the Cherry Red label.
It is a three-CD box set and pitched as  the first compilation to document the psychedelic revival of the first half of the 1980s.
It expands on the original album (A Splash Of Colour), issued by WEA at the start of 1982, maintaining the same tracks from that first album (for the first time on CD), but adding in many of the major players of the scene from that era too.
The result is a 64-track compilation, taking in cars popular in the period of 1980 – 1985 and from a scene based around club nights like the Groovy Cellar and the Alice In Wonderland Club.
As you would expect, it's a mix of the known and the much lesser-known, including the likes of Nick Nicely, Icicle Works, Julian Cope, The Soft Boys, TV Personalities, The Times, Direct Hits, Marble Staircase, Le Mat and early Creation Records acts like the Revolving Paint Dream, the Jasmine Minks and Biff Bang Pow! Mod bands who graduated from that scene to a more psych sound are also here – Purple Hearts, Squire, The Jetset, The Heartbreaks, the Onlookers and the Vandells for example. Lots of rarities too, some previously unissued.
All of that comes in a clamshell package that includes a 'weighty' booklet with a 9,000-word sleeve-note by ex-NME journalist and author Neil Taylor.
The release date is 29th April 2016, with pre-orders available now at £19.99. Track listing below and review to follow further down the line.
Find out more about the box set at the Amazon website
Disc 1:
1. DANCING IN MY MIND – THE HIGH TIDE
2. JUST LIKE A DREAM – MOOD SIX
3. SOMETHING'S HAPPENING HERE – MILES OVER MATTER
4. IT'S A MYSTIC TRIP – ROBIN HITCHCOCK
5. WATCHING THE WORLD GO BY – THE BARRACUDAS
6. 49 CIGARS – NICK NICELY
7. I HELPED PATRICK McGOOHAN ESCAPE – THE TIMES
8. SLOW PATIENCE – THE ATTRACTIONS
9. KEEP YOUR VOICE DOWN – THE EARWIGS
10. NIGHT OF THE JACKAL – CHARLIE HARPER
11. THE LONG WEEKEND – THE MARBLE STAIRCASE
12. WORK – BLUE ORCHIDS
13. LOVE LETTERS – THE SILENCE
14. GIGOLO AUNT – KNOX
15. FURTHER THOUGHTS – THE CHICAYNES
16. I SEE EVERYTHING – THE VANDELLS
17. STOMPING ALL OVER THE WORLD – KIMBERLEY REW
18. DON'T CRY YOUR TEARS – DELMONTES
19. ON THE THIRTEENTH DAY – THE MONOCHROME SET
20. CONNECT – FUTURE DAZE
21. ONLY THE STONES REMAIN – THE SOFT BOYS
22. THE FESTIVAL OF FROTHY MUGGAMENT – FIRMAMENT &THE ELEMENTS
23. NO REFLEXES – THE VON TRAP FAMILY
Disc 2:
1. HILLY FIELDS (1892) – NICK NICELY
2. ELECTRIC BLUE – THE HIGH TIDE
3. PASS MYSELF – THE THIRD EYE
4. PARK MY CAR – MILES OVER MATTER
5. NO TIME TOMORROW – SQUIRE
6. STILL DREAMING – THE MARBLE STAIRCASE
7. INSIDE MIND – THE BARRACUDAS
8. A RED LIGHT FOR THE GREENS – DEEP FREEZE MICE
9. DR.STRANGE – PAUL ROLAND
10. BROTHEL IN ROSENSTRASSE – MICHAEL MOORCOCK'S DEEP FIX
11. WIVENHOE BELLS II – CLEANERS FROM VENUS
12. 101 DAM-NATIONS – SCARLET PARTY
13. WALTZ OF THE FOOL – LE MAT
14. THE HAZE – THE DREAM FACTORY
15. WAVING AT AEROPLANES – THE LEGENDARY PINK DOTS
16. FICTION AND LITERATURE – MODERN ART
17. AND WE DANCE ON – THE JETSET
18. FOREVER – THE HEARTBEATS
19. HAZY DARKNESS – PURPLE HEARTS
20. RASPBERRY RAINBOW – PINK UMBRELLAS
21. THE DREAM INSPIRES (LIVE) – THE TV PERSONALITIES
Disc 3:
1. FLOWERS IN THE SKY – THE REVOLTING PAINT DREAM
2. I HAD TOO MUCH TO DREAM (LAST NIGHT) – NAZ NOMAD &THE NIGHTMARES
3. SUNSPOTS – JULIAN COPE
4. MR. MAGIC – THE JASMINE MINKS
5. NIRVANA – THE ICICLE WORKS
6. DO I HAVE TO BE HERE – THE WAY OUT
7. REACHING MY HEAD – THE PRISONERS
8. IN YOUR EYES (LIVE) – PLAYN JAYN
9. WHERE ARE YOU – THE PRIMEVALS
10. STRAWBERRIES ARE GROWING IN MY GARDEN (AND IT'S WINTERTIME) – THE DENTISTS
11. BARBARA CAN'T DANCE (DEMO) – DR & THE MEDICS
12. A DAY OUT WITH JEREMY CHESTER – BIFF BANG POW
13. PLASTIC FLOWERS (PSYCHO VERSION) – MOOD SIX
14. MAN'S LAUGHTER – FREIGHT TRAIN
15. YOU KNOW EVERYTHING – THE ONLOOKERS
16. DOCTOR BEN – DIRECT HITS
17. TWO BY TWO – THE GREEN TELESCOPE
18. WIDE EYED ELECTRIC – MAGIC MUSHROOM BAND
19. ENDLESS RIVER – BRAINIAC FIVE
20. THE 4 MARYS GO GO DANCE ALL NIGHT AT THE GROOVY CELLAR – CAPTAIN SENSIBLE