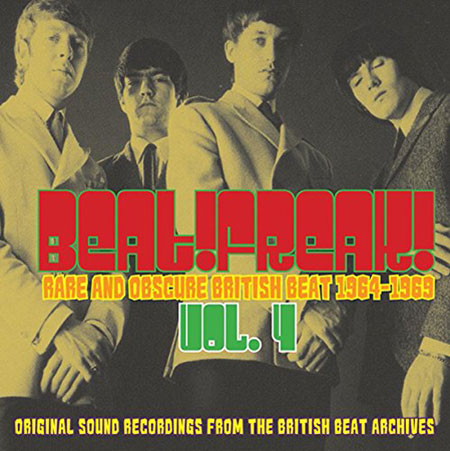 If you are following this series, you might want to know that Beatfreak! Volume 4 is landing soon.
From the label that brings you the likes of Piccadilly Sunshine (see our Spotify playlist of that series here), Mixed Up Minds, Upside Down, Electric Sound Show and Cornflake Zoo comes the fourth volume of what is described as 'bruised torso of British pop music'.
Expect 20 'rare, obscure and virtually extinct' tracks, each one  a professionally remastered original sound recording and with comprehensive background liners and rare colour, archival photos in the 24-page booklet.
Want to know what's on it? See the track listing below. If you want it, the album is available to pre-order now ahead of the 2nd December 2016 release date. It retails for £9.02.
Find out more about the CD at the Amazon website
Track listing:
1. IVANS MEADS – A Little Sympathy (1965)
2. BARRON KNIGHTS – Comin Home Baby (1964)
3. KEVIN KING LEAR – Mr. Pearly (1968)
4. JOHN SMITH AND THE NEW SOUND – Girls In Love (1968)
5. THE BLUES COUNCIL – Baby Don t Look Down (1965)
6. JIMMY NICOL – Don t Come Back (1964)
7. SANDY SARJEANT – Can t Stop The Want (I Got For You Babe) (1967)
8. GEORGE BEAN – Er-Um-Er (1964)
9. THE SOUND OF JIMMY NICOL – Clementine (1965)
10. THE PEDDLERS – Song For The Blues (1965)
11. ANITA HARRIS – Lies (1964)
12. LIVERPOOL FIVE – The Snake (1966)
13. MARK LEEMAN FIVE – Portland Town (1965)
14. WEST FIVE – She s Mine (1965)
15. BILLY FURY – Bye, Bye (1969)
16. THE NOCTURNS – Carryin On (1964)
17. THE ANGLIANS – Daytime Lover (1967)
18. BILLY J. KRAMER & THE DAKOTAS – We re Doing Fine (1966)
19. PADDY, KLAUS & GIBSON – I Tried (1965)
20. THE KINGBEES – My Little Red Book (1966)