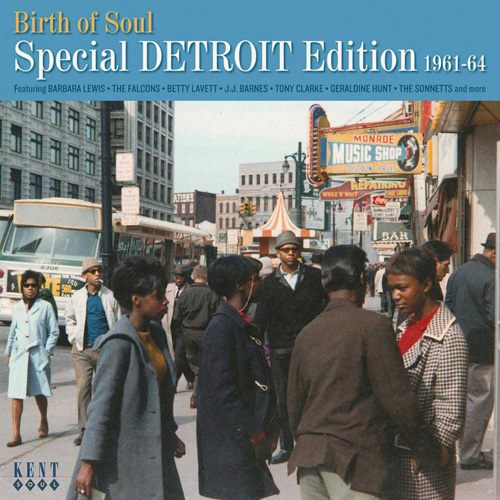 This definitely looks like a winner, with Birth Of Soul – Special Detroit Edition 1961-64 heading out via the Kent label.
CD only, this is a collection of tracks based around the Detroit area and of course, with Motown connections as a result. The majority of tracks on this collection are new to CD, some on this Ady Croasdell compilation have never seen the light of day before, including an early Martha & the Vandellas track from their Del-Phis years.
Also under that banner is something from Norman Whitfield's group the Sonnettes, Tony Clarke, who would go on to success at Chess, and Leon Peterson.
Other notable names on here are Motown artist Richard 'Popcorn' Wylie features on two tracks, Funk Brother Joe Hunter, J.J. Barnes with 'Just One More Time', Gino Washington's 'I'm Comin' Home' and Melvin Davis with 'Wedding Bells'.
Also present are Mike Hanks and Dave Hamilton's stables of acts,such as James Lately, La Wanda William, Geraldine Hunt and the Penn-etts for example, along with
Barbara Lewis ('Think A Little Sugar'), Timmy Shaw ('I'm A Lonely Guy') and The Donays' with 'Devil In His Heart', which actually featured on the second Beatles album.
Full track listing below and of course, expect the mother of all booklets with the CD, with the notes in this case taken care of by Graham Finch.
It is out on 31st March 2017 but available to pre-order now, selling for £12.75.
Find out more at the Amazon website
Track listing:
01 I Cried For My Last Time – The Sonnettes
02 Think A Little Sugar – Barbara Lewis
03 Come Back To Me – La Wanda William
04 I'm A Lonely Guy – Timmy Shaw & The Sternphones
05 Just One More Time – J.J. Barnes
06 Everything's Gonna Be Alright – Leon Peterson
07 You Lied – Marva Josie
08 Here I Am – Betty Lavett
09 My Letter – Priscilla Page
10 I Know How It Feels – Laura Johnson
11 Oh Baby – The Falcons
12 Tears Running And Falling From My Eyes – James Lately
13 Wedding Bells – Melvin Davis
14 End Of Time – Gino Washington
15 Shakin' Fit – The Pyramids
16 It's Easy – Tony Clarke
17 That's No Way To Spend My Time – The Pen Etts
18 Devil In His Heart – The Donays
19 Don't You Know (How You Thrilled Me When You Kissed Me) – Charmaine
20 Why – The Volumes
21 It Never Happened Before – Geraldine Hunt
22 Can't We Get Together (One More Time) – Harry Reid
23 Answer Me – Vivian Collins24 Nosey Folk – The Del-Phis