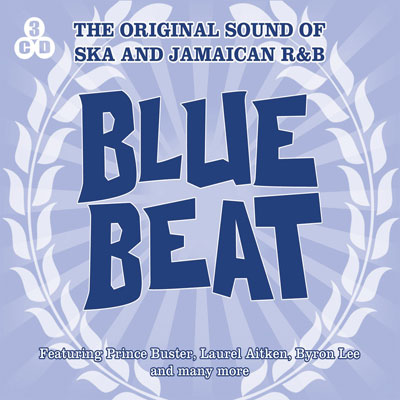 Another mod-related box set on the market and like many others of late, Blue Beat is a budget one too.
It's isn't a complete rundown of the Blue Beat label (that would cover much more than three discs), but there are 75 tracks here, culled from the label's output in the 1960s, kicking off with Blue Beat's first-ever release – Laurel Aitken's Boogie Rock – and running through a variety of other Jamaican sounds released by the label as singles.
The budget nature suggests that there will be no extensive sleevenotes here, but at just £5.82 for the three-disc set, it looks like a decent starting point for anyone wanting to dip their toe in this particular water.
Find out more about the Blue Beat box at the Amazon website
Tracklisting:
Disc: 1
1. Boogie Rock (Laurel Aitken)
2. Dumplins (Byron Lee And The Dragonaires)
3. Manny Oh (Higgs & Wilson)
4. Lollipop Girl (The Jiving Juniors)
5. Worried Over You (Keith & Enid)
6. Fat Man (Derrick Morgan)
7. Cutest Little Woman (Owen Gray)
8. Album Of Memory (The Magic Notes)
9. Jeannie Is Back (Laurel Aitken)
10. Send Me (Keith & Enid With Trenton Spence & His Group)
11. My Heart's Desire (The Jiving Juniors)
12. Don't Cry (Derrick Morgan & The Ebonies)
13. Judgement Day (Laurel Aitken)
14. Easy Snapping (Clue J And His Blues Blasters)
15. Time To Pray (Allelujah) (Mellow Larks)
16. Muriel (Alton & Eddy With Clue J And His Blues Blasters)
17. Lover Boy (Derrick Morgan)
18. Til The End Of Time (Chuck And Darby)
19. Baby What You Done Me Wrong (The Blue Beats)
20. Shocking (Lynn Hope)
21. Railroad Track (Laurel Aitken With The Blue Beats)
22. Cool School (Chuck And Darby)
23. Duke's Cookies (Duke Reid And His Group)
24. More Whisky (Laurel Aitken)
25. Tonk Game (Hank Marr)
Disc: 2
1. My Sound That Goes Around (Prince Buster And His Torch Lighters)
2. Midnight Train (Errol Dixon With The Blue Beats)
3. Mash! Mr Lee (Byron Lee And The Dragonaires)
4. Rock Baby (The Wiggans)
5. Carolina (The Folks Brothers And The Count Ossie Afro Combo)
6. Now We Know (Derrick Morgan)
7. Miss Rubbernecck Jones (Titus Turner)
8. Jack And Jill Shuffle (Theophilus Beckford)
9. River Jordan (Clancy Eccles)
10. Leave Earth (Derrick Morgan)
11. Over The River (The Jiving Juniors)
12. Lovers' Jive (Neville Esson)
13. No More Wedding (The Mellow Larks)
14. Du Du Wap (Aubrey Adams And His Dudroppers)
15. Bar Tender (Laurel Aitken)
16. Creation (Lascelles Perkins)
17. Lonely Boy (The Charmers)
18. Sinners Weep And Mourn (Owen Gray)
19. Honey Please (Bobby Kingdom)
20. Darling (Girl Satchmo)
21. Mama Shut Your Door (Errol Dixon And The Back Beats)
22. Verona (Jimmy Sinclair)
23. Times Are A-Going (Martin & Derrick)
24. Ba Ba Black Sheep (C. Byrd)
25. Georgie And The Old Shoe (Theo Beckford)
Disc: 3
1. Rosabel (The Magic Notes)
2. Bouncing Woman (Laurel Aitken And The Blue Beats)
3. Humpty Dumpty (Eric Humpty Dumpty Morris And His Drumbago Allstars)
4. Another Moses (The Mello Cat And Count Ossie's Warrickas)
5. Donna (The Blues Busters)
6. Luke Lane Shuffle (Rico Rodriguez)
7. Feel So Fine (Derrick Morgan And Patsy)
8. Blackberry Brandy (Roland Alphonso)
9. Oh Fanny (Chuck And Dobby)
10. Little Willie (Clue J And His Blues Blasters)
11. In And Out The Window (Monty And Roy)
12. Shake A Leg (Derrick Morgan)
13. Sweetie Pie (Monty And Roy)
14. Boss Girl (Jackie Estick And Buster's Group)
15. Let The Good Times Roll (Derrick And Patsy)
16. Hey Diddle Diddle (Sir Dee's Group)
17. Freedom (Clancy Eccles)
18. Rock A Man Soul (The Mello Cat And Count Ossie's Warricka's)
19. Warpaint Baby (Basil Cabbidon And Buster's Group)
20. Please Don't Leave Me (Laurel Aitken)
21. So Far Apart (Azie Lawrence)
22. Million Dollar Baby (Shenley And Annette)
23. There's Always Sunshine (The Blues Busters)
24. My Forty Five (Eric Morris)
25. Rocking In My Feet (Owen Gray With The Jets)