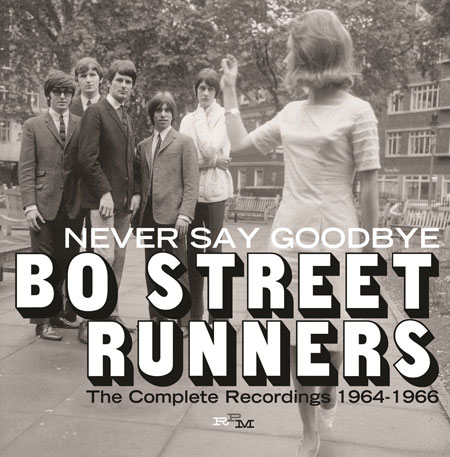 If your life has been lacking a compilation by the band, then worry no more as Bo Street Runners – Never Say Goodbye The Complete Recordings 1964-1966 (RPM) is out next month.
The 1960s R&B / beat band has been treated to a collection that pulls together their output over a two-year period, compiled with the full co-operation of the surviving band members and including lots of exclusive photos and cuttings in the packaging.
The album is made up of all their singles plus a rare, privately-pressed EP and assorted extra tracks. Tracklisting below. If you want it, the CD is released on 17th November 2014, priced at £7.99 for pre-orders.
Find out more at the Amazon website
Track Listing:
1. LOVE TO YOU (Oak EP)
2. LONELY AVENUE (Oak EP)
3. BO STREET RUNNER (Oak EP)
4. SHAME SHAME SHAME (Oak EP)
5. BO STREET RUNNER
6. TELL ME
7. TELL ME WHAT YOU'RE GONNA DO
8. AND I DO JUST WHAT I WANT
9. BABY NEVER SAY GOODBYE
10. GET OUT OF MY WAY
11. DRIVE MY CAR
12. SO VERY WOMAN
13. CAN'T STOP TALKIN' ABOUT MY BABY (by MIKE PATTO)
14. LOVE (by MIKE PATTO)
15. BO STREET RUNNER (Ready Steady Win Version)
16. I WANT TO BE LOVED (RADIO VERSION)
17. BABY, NEVER SAY GOODBYE (RADIO VERSION)