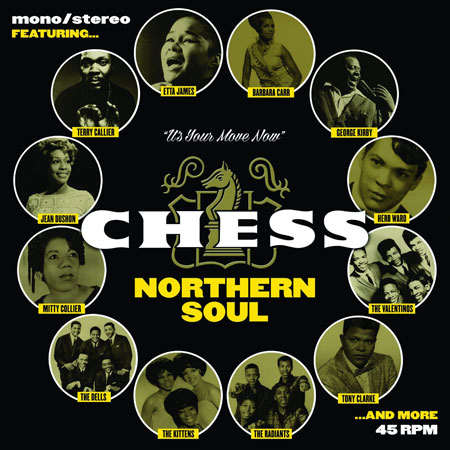 This doesn't come cheap, but we still like the look of this upcoming Chess Northern Soul 7-inch box set.
The box set is compiled by Ady Croasdell, celebrating Chess getting its bus pass. Yes, the label is 65 years old and to celebrate, it is offering up this box set of 'movers & stompers that left their dancefloor imprint on Britain's choicest Northern Soul clubs.' Not to mention a few mod clubs too.
Classics as you would expect, with the likes of The Valentinos (featuring Bobby Womack) doing 'Sweeter Than The Day Before', Etta James 'Can't Shake It', Doug Banks 'I Just Kept On Dancing', Mitty Collier's 'My Party', Tony Clarke's 'Landslide' and Terry Callier's 'Look At Me Now'. A rarity is thrown in for good value too, Joy Lovejoy doing 'In Orbit' – with very little known about this particular singer and the song even today.
The release comes in a replica UK Chess livery (black/silver and black/gold in a black and yellow label sleeve) presentation box with an eight-page leaflet featuring detailed notes by Ady Croasdell. There's also a download card to save you having to burn the tracks.
It's down for release on 24th July 2015, but you can pre-order now. As we said, not cheap though at £84.40. Tracks detailed below.
Find out more at the Amazo website
RECORD ONE
A – Terry Callier – Look At Me Now (1966)
B – The Radiants – Hold On (1967)
RECORD TWO
A – Barbara Carr – My Mama Told Me (1965)
B – Doug Banks – I Just Kept On Dancing (1964)
RECORD THREE
A – Etta James – Can't Shake It (1964)
B – George Kirby – What Can I Do (1966)
RECORD FOUR
A – Herb Ward – Strange Change (1965)
B – Jean Dushon – Feeling Good (1966)
RECORD 5
A – Joy Lovejoy – In Orbit (1967)
B – Mitty Collier – My Party (1964)
RECORD 6
A – The Dells – Thinkin' About You (1966)
B – The Kittens – Ain't No More Room (1967)
RECORD 7
A – The Valentinos – Sweeter Than The Day Before (1966)
B – Tony Clarke – Landslide (1966)