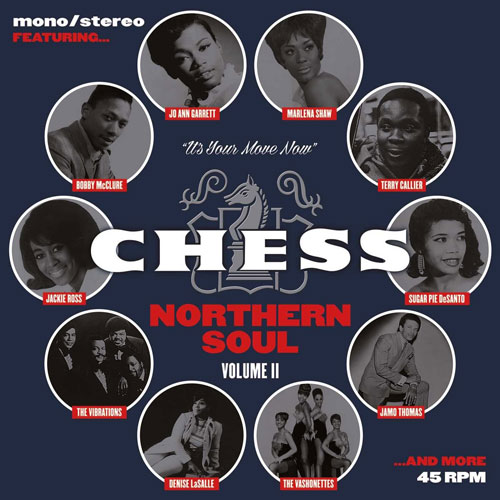 The first volume came out around a year ago. It is now being joined by the Chess Northern Soul Volume 2 7-inch box set.
One of two Chess collections coming your way, this one is a new collection of 7x 7-inch single compiled by Ady Croasdell, all with replica UK Chess livery (black/silver and black/gold in a black and yellow label sleeve) and in a presentation box with an 8-page leaflet featuring detailed notes by Mr Croasdell. There's also a download card if you want digital copies.
As for the music, thats another 14 floor fillers, some of which are making their vinyl debut. Those are My Square by Jackie Ross from 1965, Terry Callier's You Were Just Foolin' Me from 1968, an alternative take of Must I Holler by Jamo Thomas and Sugar Pie DeSanto's Talkin', Dreamin', Boastin'.
The full track listings are below. If you want one of the sets, it is released on 19th August and available to pre-order now. Amazon has it up for £74.45.
Find out more and order at the Amazon website
Tracks:
RECORD ONE
A – Terry Callier – You Were Just Foolin' Me (previously unreleased on vinyl)
B – Bobby McClure – You Got Me Baby (originally Checker 1152)
RECORD TWO
A – Jo Ann Garrett – A Whole New plan (originally Chess 1959)
B – Jackie Ross – My Square (previously unreleased on vinyl)
RECORD THREE
A – Sugar Pie DeSanto – Talkin', Dreamin', Boastin' (previously unreleased on vinyl)
B – Denis LaSalle – A Love Reputation (originally Tarpon T-6603 / Chess 2005)
RECORD FOUR
A – The Vashonettes – A Mighty Good Lover (originally Checker 1195)
B – Marlena Shaw – Let's Wade in the Water (originally Cadet 5549)
RECORD FIVE
A – Jamo Thomas – Must I Holler (alt. version of Chess 1971 – previously unreleased on vinyl)
B – The Chessmen – Why Can't I Be Your Man (originally Chess 1950)
RECORD SIX
A – Greg Perry – Head Over Heels (In Love) (originally Chess 2032)
B – The Gospel Classics – More Love, That's What We Need (originally Checker 5050)
RECORD SEVEN
A – The Vibrations – Make it Last (originally Chess CH 2151)
B – Spooner's Crowd – Two in the Morning (originally Cadet 5533)