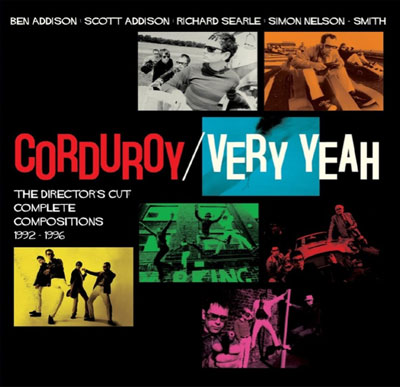 I suspect it's a love or hate band, but personally I love 'em, so you'll have to indulge me in a write-up of Corduroy – Very Yeah – The Director's Cut Complete Compositions 1992-1996 box set.
Yes, a Corduroy box set. When I mentioned this on Twitter a while back, a number of people didn't actually believe me that Cherry Red was producing one. But they are, with the box due for release on 20th May 2013.
It's a 4CD box, showcasing the band's five (out of print) albums for Acid Jazz and Big Cat, as well as throwing in a number of rarities and unissued tracks. Each album is housed in a replica card sleeve, sat alongside a 16-page booklet featuring rare photos and new sleevenotes from Corduroy bassist Rich Searle.
As I mentioned there, plenty of non-album cuts too (22 in total), 17 of which are previously unreleased tracks and demos. That swells the length of the discs to 80 minutes each, so we're talking quite a lengthy set. Those unissued tunes include a previously unheard vocal version of Very Yeah and the very first demo version of E-Type (used for the promo video) and covers of two famous US TV themes (Sesame Street and Quincy Jones Hikky Bur, from the Bill Cosby Show).
Tracklisting in full below, with pre-orders available from Amazon for £21. There's a Facebook page for the release too.
Find out more at the Amazon website
Disc: 1
1. Chowdown – Corduroy
2. Long Cool & Bubbly – Corduroy
3. The Girl Who Was Death – Corduroy
4. How To Steal The World – Corduroy
5. Frug In G Major – Corduroy
6. Electric Soup – Corduroy
7. Ponytail – Corduroy
8. Harry Palmer – Corduroy
9. E-Type – Corduroy
10. Skirt Alert – Corduroy
11. Six Plus One – Corduroy
12. Money Is – Corduroy
13. Goober Grape (Demo) – Corduroy
14. Hikky Burr (Demo) – Corduroy
15. Funky Freedom (Demo) – Corduroy
16. Happy Shopper (Demo) – Corduroy
17. Sesame Street (Demo) – Corduroy
18. E-Type (Demo) – Corduroy
Disc: 2
1. High Havoc – Corduroy
2. London, England – Corduroy
3. The Corduroy Orgasm Club – Corduroy
4. The Frighteners – Corduroy
5. You're A Great Way To Fly – Corduroy
6. Something In My Eye – Corduroy
7. Lovely Lonely And Loaded – Corduroy
8. Breakfast In Love – Corduroy
9. One Born Every Minute – Corduroy
10. Follow That Arab – Corduroy
11. Nobody Move – Corduroy
12. Very Yeah – Corduroy
13. Clearing Up Music – Corduroy
14. Simon's Tune – Corduroy
15. Paper Money – Corduroy
16. 10.28 From Shibuya – Corduroy
17. Emmanuelle In The Jaws Of The Dragon – Corduroy
18. Summer In My Eye – Corduroy
19. Man Alive – Corduroy
20. The Mandelbrot Set – Corduroy
21. Get Ron Carter – Corduroy
22. Very Yeah (Vocal Version) – Corduroy
Disc: 3
1. Don't Wait For Monday – Corduroy
2. Practice What You Preach – Corduroy
3. Red Mercury – Corduroy
4. End Of The Rainbow – Corduroy
5. Out Of Here – Corduroy
6. The Diceman – Corduroy
7. Magic Carpet – Corduroy
8. January Woman – Corduroy
9. Mini – Corduroy
10. Along The Rooftops – Corduroy
11. Ayrton Senna – Corduroy
12. Motorhead – Corduroy
13. Clockwork Man (Fast Version) – Corduroy
14. Impossible Smile (Demo) – Corduroy
15. Preacher (Demo) – Corduroy
16. Another Hundred Years (Demo) – Corduroy
17. Apple Pipe (Demo) – Corduroy
18. Original Sin (Demo) – Corduroy
19. Finally Atlanta (Demo) – Corduroy
Disc: 4
1. High Havoc – Corduroy
2. E-Type – Corduroy
3. The Frighteners – Corduroy
4. Don't Wait For Monday – Corduroy
5. Chowdown – Corduroy
6. Very Yeah – Corduroy
7. Along The Rooftops – Corduroy
8. Something In My Eye – Corduroy
9. Mini – Corduroy
10. Motorhead – Corduroy
11. Electric Soup – Corduroy
12. London, England – Corduroy
13. The Corduroy Orgasm Club – Corduroy
14. Skirt Alert – Corduroy
15. Money Is – Corduroy