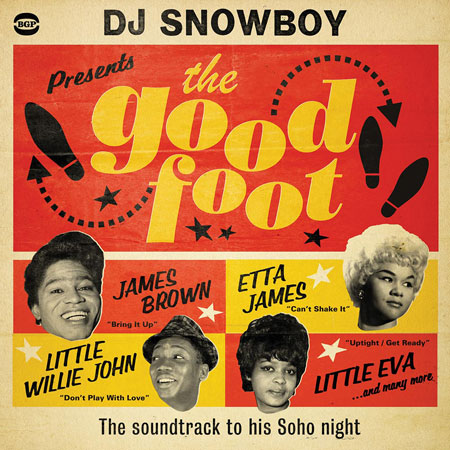 Interesting compilation just popped up on the Ace Records site, specifically DJ Snowboy Presents The Good Foot on BGP.
As you might have guessed, it's an album based around the weekly Friday club night at Madam JoJo's on Brewer Street in Soho. If you haven't been, this might give you a taster of just what to expect. Or you could always pop down on Friday if you are in the area.
Anyway, vintage soul, funk, boogaloo and rare groove are the order of the day both there and on this 23-track CD (no vinyl as far as we can see). But being an Ace release, there is likely to be plenty of background in the chunky sleevenotes we expect and love.
Read on for the tracks, with the album available to pre-order now directly from the Ace website for £11.50.
Trackslisting:
01 Get Ready / Uptight – Little Eva Harris
02 Don't Feel Sorry For Me – The Ikettes
03 Can't Shake It – Etta James
04 Misery – The Dynamics
05 I'll Give You My Love – Sue Ann Jones
06 Baby, Don't You Know – The Brownettes
07 I Don't Love You No More (I Don't Care About You) – Jimmy Norman
08 I Say You're Driving Me Crazy – Dorothy Berry
09 Soul Brothers Testify Pt 2 – Chester Randle's Soul Senders
10 Oh Baby Don't You Weep – Luther Ingram
11 Don't Play With Love – Little Willie John
12 Just A Mistake – The Barrino Brothers
13 Coming Back To Me Baby – James Carr
14 Boys – The Shirelles
15 Bring It Up – James Brown
16 Rough Lover – Aretha Franklin
17 You Don't Love Me – Z.Z. Hill
18 Looking At The Future – Little Johnny Taylor
19 The Watusi-Roll – Hank Marr
20 Sweet 'Tater Pie – Mongo Santamaria
21 Do The See Saw – The Contours
22 Why Don't You Do Right? – Mark Murphy
23 Nuther'n Like Thuther'n – Willis Jackson