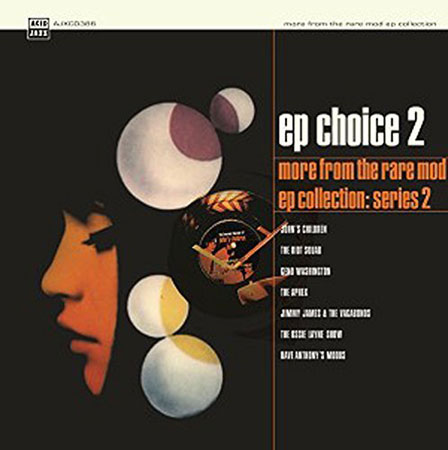 Look out for a review of EP Choice 2 – More From The Rare Mod EP Collection soon – or take a chance now if you like.
Actually, you can only pre-order this Acid Jazz release now, as the release date is 23rd October 2015. Probably worth the wait though.
The album is the second instalment  of the 'best of' series from Rare Mod, that being a series of EPs picking out some rare / obscure mod-friendly grooves from the 1960s. Some overlooked, some never released in the first place – and some possibly both.
As you would expect from a varied decades, the sounds are across the spectrum, everything from psych and freakbeat through to dance floor soul. If that sounds like your kind of thing and you haven't invested in the EPs as they have been released, it is definitely worth considering.
Full track listing below and if you want a copy of the 27-track album, it sells for £10.99.
Find out more at the Amazon website
Track listing:
1. Holding On (With Both Hands) – Geno Washington
2. Soul Sister, Brown Sugar – Jimmy James and The Vagabonds
3. She's Got the Time – The Aphex
4. I'm Waiting for My Man – The Riot Squad
5. Rock My Plimsoul – The Ossie Layne Show
6. New Directions – Dave Anthony's Moods
7. Smashed! Blocked! – John's Children
8. She's Looking Good – Jimmy James and The Vagabonds
9. Midnight Hour – The Ossie Layne Show
10. Fading Away – Dave Anthony's Moods
11. Jumpin' Jack Flash – Geno Washington
12. Toy Soldier – The Riot Squad
13. Desdemona ('Why Do You Have to Speak') – John's Children
14. Too Many Things – The Aphex
15. Sing a Simple Song – The Ossie Layne Show
16. Aunt Dora's Soul Shack – Jimmy James and The Vagabonds
17. Michael (The Lover) – Geno Washington
18. Give It a Chance Tim Large (Maribus) – Dave Anthony's Moods
19. Silly Boy Blue – The Riot Squad
20. Midsummer Night's Scene (Alternate Mix) – John's Children
21. Can't Be So Bad/Fresh Garbage – The Ossie Layne Show
22. Why (Must I) – Jimmy James and The Vagabonds
23. My Baby – Dave Anthony's Moods
24. Hi Heel Sneakers – Geno Washington
25. Sara, Crazy Child (German Single Version) – John's Children
26. Silver Treetop School for Boys – The Riot Squad
27. Never Knew Love Was Like This – The Aphex