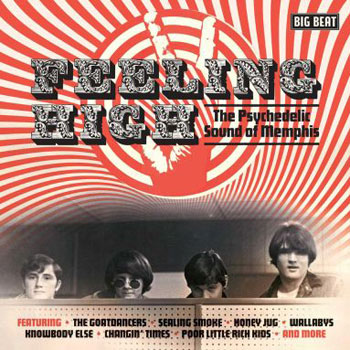 Fans of the latter part of the 1960s might want to check out Feeling High: The Psychedelic Sound Of Memphis, which is released on Big Beat via Ace Records.
Memphis perhaps isn't the kind of place you would necessarily associate with psych, soul maybe and country certainly. But it did have a decent track record back in the day.
The album showcases the production work of Jim Dickinson and James Parks, who used the local talent and their own skills to create a distinctive sound for both the area and the time. It was fairly niche then and is still niche now, hence why the vast majority of tracks on the album have not been issued before.
Complete with the kind of notes you would expect from an Ace compilation, it's available to order now, released on 26th November 2012. It pre-orders for £11.46. Tracklisting below.
Find out more at the Amazon website
Tracklisting:
Rubber Rapper – Sealing Smoke
For Your Love – The Honey Jug
Blue Music Box – Changin' Tymes
Secret Storm – The Knowbody Else
Spare Me – Triple X
Holy Days – The Wallabys
Shoo Shoo Shoo Fly – Greg McCarley
Hark The Child – Changin' Tymes
Come On Along And Dream – The Poor Little Rich Kids
Eat Me Alive – The Goatdancers
Crazy Man's Woman – Greg McCarley
Deja Vu – Judy Bramley
Free Singer's Island – The Knowbody Else
Feeling High – The Wallabys
Rockin' In The Same Old Boat – Triple X
I Need Love – The Poor Little Rich Kids
Ticket To Ride – Mother Roses
Ogden – David Mitchell
If You're Thinking – Greg McCarley
Old Man Of Time – The Wallabys
We're In Town – The Goatdancers
Dancing Girl – The 1st Century
Flying Horse Of Louisiana (live) – The Knowbody Else
The Goatdancers advert – The Goatdancers