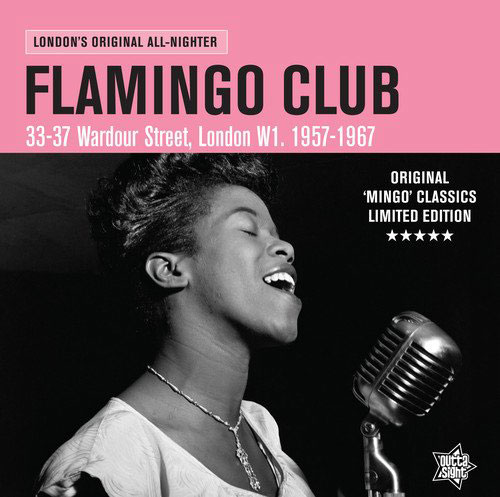 The latest in this (fairly) long-running series from Outta Sight is The Flamingo Club – London's Original All-Nighter. It's available to pre-order now.
A limited edition vinyl release (we don't know how many), this is a 16-track release that pretty much does what you expect. Pick out some tunes that would have been filling the dance floor at the legendary London hangout.
The official write up goes like this…
Jeff Kruger's fabulous Flamingo originally operated from the basement of the Mapleton Restaurant in Coventry Street, London and was known for its sophisticated Jazz suppers. In April 1957 the club moved to Wardour Street where it soon became famous, some might say 'infamous' for its weekend 'All-Nighters' staying open until 6am every Friday and Saturday night.
In 1959 Kruger hired brothers Rik and Johnny Gunnell to manage the 'Mingo' and develop the 'All-Night' scene introducing the signature sound of jazz-tinged rhythm and blues and proto-soul! Post 1959 The Flamingo's character changed dramatically from its refined, jazz ethos to an altogether more up-front R&B and Ska policy that appealed to black American G.I.s stationed outside of the city and the Caribbean community who were fundamental in the clubs 'fully-amplified' sound system, the first of its kind in the capital.
The 'Mingo' became synonymous with the birth of the Mod movement but it also attracted the London underworld and in 1963 it witnessed a notorious fight between two of Christine Keeler's lovers that in turn laid bare the Profumo Affair! Here we present a soundbite of the Flamingo, circa 1962, capturing the best of the 'canned' music and showcasing visiting American talent alongside British modernists who honed their sound in the club.
Check out the track listing below and if it appeals, you can pre-order now ahead of the 4th August release date. It's priced at £15.71.
Find out more about the album at the Amazon website
Track listing:
  1. Think – James Brown And The Famous Flames
  2. Fingertips – Little Stevie Wonder
  3. You Can't Hide – Lulu Reed & Freddy King
  4. (Mama) He Treats Your Daughter Mean – Ruth Brown
  5. Dumplins – Byron Lee And The Dragonaires
  6. Oh Carolina – PFilks Brothers with Prince Buster And The All Stars
  7. Tipitina – Professor Longhair and his Blues Scholars
  8. Love Letters – Ketty Lester
  9. Unchain My Heart – Ray Charles and his Orchestra
  10. One Mint Julep – Sarah Vaughn
  11. Wicked Woman – Don Land and his Boulder Rollers
  12. You Can't Sit Down – Chris Columbo
  13. Sugar Babe – Part 1 – Jimmy Powell
  14. Air Travel – Chris Farlowe & The Thunderbirds
  15. Housewife's Choice – Derrick And Patsy
  16. Flamingo – Eric Bostic And His Orchestra
Save
Save