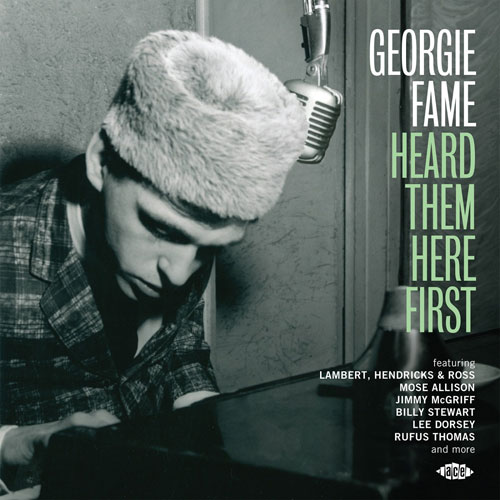 A lot of Georgie Fame out there right now. The box set is pretty much a must buy and the Georgie Fame Heard Them Here First compilation via Ace looks fascinating too. Tip of the hat to @monkeypicks for letting us know.
It is what you expect it to be, which is a selection of the tracks that inspired Georgie Fame in his formative years as a musician in the clubs and indeed, covered by the man himself in his own style back in the day. Indeed, Georgie managed to release versions of some of these tracks before they were released in the UK.
So what you get are tracks mainly from the early to mid-1960s, including the original versions of Yeh Yeh! and Sitting In The Park, as well as a host of lesser-known tunes and some bona fide rarities – even for mod / R&B collectors.
25 tracks in total, all of which are listed below. If you want the album, it is released on 30th October 2015 but available to pre-order now, selling for £11.99.
Find out more at the Amazon website
Tracklisting:
1. Sweet Thing – The Spinners
2. Work Song – Oscar Brown Jr
3. The Monkey Time – Major Lance
4. The Dog (Do The Dog) – Rufus Thomas
5. Yeh Yeh! – Lambert, Hendricks And Bavan
6. Get On The Right Track Baby – Ray Charles
7. Pink Champagne – Joe Liggins And His Honeydrippers
8. Close The Door – Joe Tex
9. I Love The Life I Live – Mose Allison Trio
10. Eso Beso (That Kiss) – Paul Anka
11. One Whole Year Baby – Earl Curry & His Orchestra
12. Sitting In The Park – Billy Stewart
13. Pride And Joy – Marvin Gaye
14. Sick And Tired – Fats Domino
15. Monkeying Around – William Bell
16. Dr Kitch – Lord Kitchener
17. Bend A Little – Shorty Billups
18. Soul Stomp – Earl Van Dyke
19. Do-Re-Mi – Lee Dorsey
20. Gimme That Wine – Lambert, Hendricks And Ross
21. Shop Around – The Miracles
22. Moody's Mood For Love – King Pleasure
23. It's Got The Whole World Shakin' – Sam Cooke
24. Funny How Time Slips Away – Joe Hinton
25. All About My Girl – Jimmy McGriff