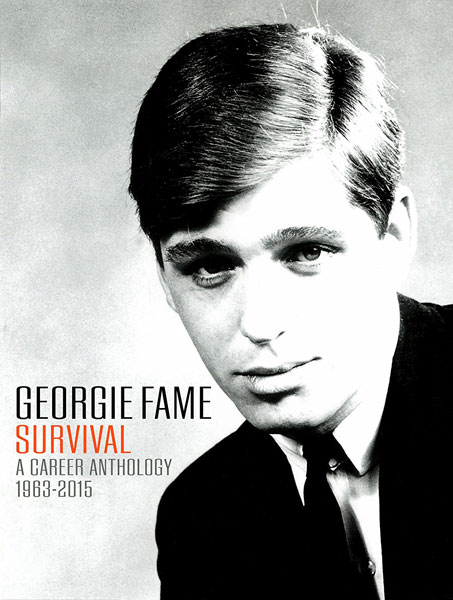 Well, Universal really is spoiling us. Not content with delivering the wonderful The Whole World's Shaking box of his early works, it is now offering something even more wide-ranging, the Georgie Fame – Survival Career Anthology Box set.
As the title suggests, this isn't just 'Flamingo' Fame, this is Fame through the years, a career anthology taking us from 1963 through to 2015.
Six discs, containing 110 tracks, 18 of which are previously unreleased. It takes in all of Georgie's hit singles (three UK chart-toppers among them), as well as notable B-sides, rarities mod classic 'Somebody Stole My Thunder', an alternative mix of the much loved blue eyed soul dancer 'Daylight', and plenty of key album cuts.
Unreleased tracks include six CBS-era gems (recorded between 1967 and 1970), five numbers from the Island Records sessions captured in the USA in 1974 and 1976, and seven tracks from a live show at the Lyceum, London, in September 1974.
A 48-page hardback book features extensive liner notes from a new interview with Georgie by author Paolo Hewitt, as well as many unseen photographs, ensuring that this is the most comprehensive overview of his career.
All the tracks are listed below and if you want it, the set is available to pre-order now ahead of 25th November 2016 shelf date, Amazon is doing pre-orders for £48.88.
Find out more and pre-order at the Amazon website
Track listings:
Disc: 1
1. The Blue Flames – Orange Street
2. The Blue Flames – Rik's Tune
3. The Blue Flames – Money (That's What I Want)
4. Georgie Fame & the Blue Flames – Let The Sunshine In
5. Georgie Flame & the Blue Flames – Night Train
6. Georgie Fame & the Blue Flames – Work Song
7. Georgie Fame & the Blue Flames – Tom Hark Goes Blue Beat
8. Georgie Fame & the Blue Flames – Madness
9. Georgie Fame & the Blue Flames – Get On The Right Track Baby
10. Georgie Fame & the Blue Flames – Green Onions
11. Georgie Fame & the Blue Flames – Gimme That Wine
12. Georgie Fame & the Blue Flames – Yeh
13. Georgie Fame & the Blue Flames – You're Drivin' Me Crazy (alternative version)
14. Georgie Fame & the Blue Flames – Saturday Night Fish Fry
15. Georgie Fame & the Blue Flames – In The Meantime
16. Georgie Fame & the Blue Flames – Blue Monday
17. Georgie Fame & the Blue Flames – Outrage
18. Georgie Fame & the Blue Flames – High Heel Sneakers
19. Georgie Fame & the Blue Flames – Sweet Thing
20. Georgie Fame & the Blue Flames – Sitting In The Park
21. Georgie Fame & the Blue Flames – My Girl
22. Georgie Fame & the Blue Flames – Soul Stomp
23. Georgie Fame & the Blue Flames – El Bandido
24. Georgie Fame & the Blue Flames – Getaway
25. Georgie Fame & the Harry South Big Band – Papa's Got A Brand New Bag
26. Georgie Fame & the Harry South Big Band – Funny How Time Slips Away
27. Georgie Fame & the Blue Flames – Sunny
Disc: 2
1. Because I Love You
2. Try My World
3. Knock On Wood
4. El Pussycat
5. River's Invitation
6. Close The Door
7. Beware Of The Dog
8. The Ballad Of Bonnie & Clyde
9. This Is Always
10. Peaceful
11. Somebody Stole My Thunder
12. Someday Man
13. Georgie Fame and Alan Price – Time I Moved On
14. Fully Booked
15. Bidin' My Time (Cos I Love You)
16. Fool's Paradise
17. A Waiting Time
18. Tell It Like It Is (take 4)
19. Entertaining Mr Sloane (Main Theme Backing Track)
20. Entertaining Mr Sloane (Theme Two)
21. Bluesology
Disc: 3
1. Seven Power
2. Everlovin' Woman
3. Ozone
4. Leaving The City Behind
5. Ali Shuffle, Round Two
6. Lily
7. Thanking Heaven
8. Daylight (alternate version) previously unreleased
9. Do I Love You
10. Georgie Fame & the Blue Flames – Three Legged Mule
11. Barefootin'
12. Call Up the Devil
13. Hall Street Jive
14. California Girl
15. Cool Cat Blues
16. It's Not Supposed To Be That Way
17. Move It On Up previously unreleased
18. Hot Stuff
19. Tempo Feliz previously unreleased
20. Getaway previously unreleased
21. I Am What I Am previously unreleased
22. Little Ones (aka Ickle Ones) previously unreleased
Disc: 4
1. Country Morning
2. Ali Shuffle, Round Two
3. I Love the Life I Live
4. Parchman Farm
5. Point Of No Return
6. Medley: You Can't Sit Down / Last Night
7. One Whole Year Baby unreleased
8. Lovely Day
9. That's What Friends Are For
10. Sitting in the Park
11. Little Samba
12. Funny How Time Slips Away
13. Eros Hotel
14. The Hurricane (part 2)
Disc: 5
1. Jumpin' with Symphony Syd
2. Rocking Chair
3. Roll With My Baby
4. That's The Way It Goes
5. I Love The Life I Live
6. Survival
7. The Woodshed
8. Tuned In To You
9. How Long Has This Been Going On?
10. Passed Me By
11. A Declaration of Love
Disc: 6
1. Charleston Walk
2. You Are There
3. Flamingo Allnighter
4. Rhythm King
5. Everybody's Guessin'
6. Mose Knows
7. Since I Fell For You
8. The Ballad of Bonnie and Clyde
9. Vinyl
10. Anthem For A Band
11. Rollin' Blue
12. Wide – Eyed and Legless
13. Guantanamo by the Sea
14. Say When
15. My Ship