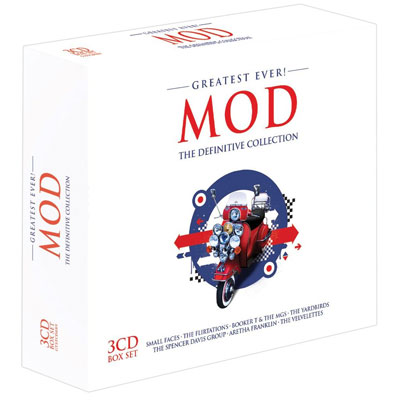 I looked at this and thought it would be the one of those truly awful collections you see advertised on TV. Thing is, most of the material on the Greatest Ever Mod box set is actually pretty decent – even if it is pretty obvious too.
With that in mind, it probably ticks a box for some people. Basically, if you want 60 tracks of classic beat, soul and R&B, that's pretty much what you get. There's a bit of 'token' revival and two tone (three tracks in all) which doesn't quite sit well in light of the rest of the 1960s-based material, but other than that, it's a bit 1960s mod by numbers.
It's also very cheap. Amazon is doing pre-orders of this for £5.82, which works out at around £1.94 per disc – or around 9p per track. Can't complain about that – although as we've not seen or heard a copy, we can't actually vouch for it in terms of sound quality. You'll have to take a chance on that. Full tracklisting below.
Find out more at the Amazon website
Tracklisting:
Disc: 1
1. All Or Nothing – Small Faces
2. Good Morning Girl – David Bowie
3. For Your Love – The Yardbirds
4. Have Love Will Travel – The Sonics
5. We Gotta Get Out Of This Place – The Animals
6. Gimme Some Lovin' – The Spencer Davis Group
7. Uptight – Stevie Wonder
8. He Was Really Sayin' Something – The Velvelettes
9. Nowhere To Run – Martha Reeves & The Vandellas
10. Rescue Me – Fontella Bass
11. Land Of 1000 Dances – Wilson Pickett
12. Do I Love You (Indeed I Do) – Frank Wilson
13. Ain't That Peculiar – Marvin Gaye
14. Got To Get You Into My Life – Cliff Bennett & The Rebel Rousers
15. Watermelon Man – Mongo Santamaria
16. Open the Door To Your Heart – Darrell Banks
17. I'll Keep On Holding On – The Action
18. I'm Rowed Out – The Eyes
19. Sha La La La Lee – Small Faces
20. Making Time – The Creation
Disc: 2
1. Nothing But A Heartache – The Flirtations
2. The Night – Frankie Valli & The Four Seasons
3. Beggin' – Timebox
4. Cool Jerk – The Capitols
5. This Old Heart Of Mine (Is Weak For You) – The Isley Brothers
6. I Spy (For the F.B.I.) – Jamo Thomas & His Party Brothers Orchestra
7. Band Of Gold – Freda Payne
8. There's A Ghost In My House – R. Dean Taylor
9. Brother Can You Spare A Dime? – The Artwoods
10. Love Is Like An Itching In My Heart – The Supremes
11. Let's Wade In The Water – Marlena Shaw
12. Think It Over (Before You Break My Heart) – Brenda Holloway
13. Little By Little – Dusty Springfield
14. Finger Poppin' – Ike & Tina Turner
15. Smokestack Lightning – Howlin' Wolf
16. Train To Skaville – The Ethiopians
17. A Message To You, Rudy – The Specials
18. The Prince – Madness
19. Can't Get Used To Losing You – The Beat
20. My World – Secret Affair
Disc: 3
1. Green Onions – Booker T & The MGs
2. Comin' Home Baby – Mel Tormé
3. Walking The Dog – Rufus Thomas
4. Dimples – John Lee Hooker
5. The In Crowd – Dobie Gray
6. Fortune Teller – Benny Spellman
7. Wooly Bully – Sam The Sham & The Pharoahs
8. Louie Louie – The Kingsmen
9. Money (That's What I Want) – Barrett Strong
10. Soulville – Aretha Franklin
11. Shop Around – The Miracles
12. I've Got A Woman – Ray Charles
13. Poison Ivy – The Coasters
14. Night Train – James Brown
15. Cry Baby – Garnet Mimms & The Enchanters
16. Leaving Here – Eddie Holland
17. Zoot Suit – The High Numbers
18. Lipstick Traces (On A Cigarette) – Benny Spellman
19. Boom Boom – John Lee Hooker
20. Coal Miner – Nappy Brown