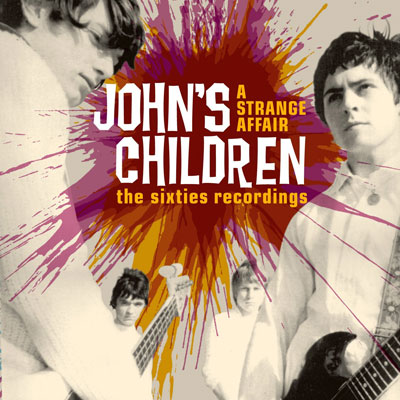 Down for a November release is John's Children – A Strange Affair (The Sixties Recordings) on the Cherry Red label.
The mod/psych band (perhaps most famous for having Marc Bolan amongst its number) is celebrated with an album pulling together the band's entire output between 1966 and 1970.
The package includes:
Two singles for EMI's Columbia label: 'The Love I Thought I'd Found' and 'Just What You Want – Just What You Get'
Four singles for The Who's label Track Records: 'Desdemona', the legendarily withdrawn 'Midsummer Night's Scene', 'Come And Play With Me In The Garden' and 'Go-Go Girl'
Their mock-live album Orgasm! which was belatedly issued on US label White Whale in 1970
Andy Ellison's subsequent solo singles 'It's Been A Long Time' (Track), 'Fool From Upper Eden' (CBS) and 'You Can't Do That' (SNB)
Three tracks by pre-John's Children band The Silence
Plus a raft of rare and previously unissued alternative versions and mixes.
The 2-CD set has been compiled with help from Andy Ellison. Their manager Simon Napier-Bell has also contributed to the detailed sleeve-notes, which are based around excerpts from Ellison's yet-to-be-published autobiography.
It's available to order online ahead of the 25th November release date, selling for £10.21. Tracks all listed below.
Disc One – Singles and Rarities:
1. The Love I'd Thought I'd Found
2. Strange Affair
3. Just What You Want- Just What You'll Get
4. But She's Mine
5. Desdemona
6. Remember Thomas A Becket
7. Midsummer Night's Scene
8. Sara, Crazy Child
9. Come And Play With Me In The Garden
10. Go-Go Girl
11. Jagged Time Lapse
12. Arthur Green (Credited To Andy Ellison)
13. It's Been A Long Time (Andy Ellison Solo)
14. Fool From Upper Eden (Andy Ellison Solo)
15. Another Lucky Lie (Andy Ellison Solo)
16. You Can't Do That (Andy Ellison Solo)
17. Cornflake Zoo (Andy Ellison Solo)
18. Help (Andy Ellison Solo)
19. Casbah Candy (Andy Ellison Solo)
20. Hippy Gumbo (Andy Ellison Solo)
21. Down Down (By The Silence)
22. Cold On Me (By The Silence)
23. Forgive Me If I'm Wrong (The Silence)
24. Mustang Ford
25. Not The Sort Of Girl You Take To Bed
26. Sally Was An Angel (Vocal)
27. The Perfume Garden Of Gulliver Smith (Vocal)
Disc Two – Orgasm! and bonus tracks:
1. Killer Ben
2. Jagged Time Lapse
3. Smashed! Blocked!
4. You're A Nothing
5. Not The Sort Of Girl
6. Cold On Me
7. Leave Me Alone
8. Let Me Know
9. Just What You Want – Just What You Get
10. Why Do You Lie
11. Strange Affair
12. But She's Mine
13. The Love I Thought I'd Found (First Vsn)
14. Desdemona (Why Do You Have To Lie Vsn)
15. Remember Thomas A' Beckett (Alt. Version)
16. Midsummer Night's Scene (Alt. Version)
17. Sara, Crazy Child ( German Single Version)
18. Jagged Time Lapse (Alternative Version)
19. It's Been A Long Time (Stero Mix)
20. You Can't Do That (Acetate Version)
21. Hippy Gumbo (Marc Bolan Vocal)
22. Not The Sort Of Girl You Take To Bed (Alternative Version)
23. Sally Was An Angel (Instrumental)
24. Come And Play With Me In The Garden (Instrumental)
25. The Perfumed Garden Of Gulliver Smith ( Instrumental)
26. Midsummer Night's Scene (Instrumental)