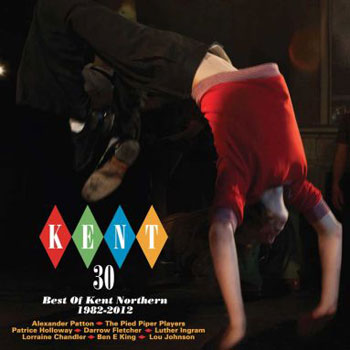 If you have been in the business 30 years, an album is certainly going to be on the cards. In the case of Kent, it's the Kent 30: Best Of Kent Northern 1982 – 2012 album.
Yes, 30 years since Kent 001 (aka For Dancers Only) would you believe. To commemorate those years, this CD looks at the history of the classic soul label, taking in highlights from over the years, along with never before compiled (on CD) tunes and even one tune from that first LP – Gene & Gary's Baby Without You, which is one of those non-CD tracks.
30 tunes, one for each year, all compiled by Ady Croasdell and with the usual detailed liners from the same man. It's available to pre-order now with a shelf date of 29th October. Full tracklisting below.
Find out more at the Amazon website
Tracklisting:
1. OOH IT HURTS ME – The Pied Piper Players
2. BEAUTY IS JUST SKIN DEEP – The Sweethearts
3. BABY WITHOUT YOU – Gene & Gary
4. LOVE KEEPS ME CRYING – Walter Wilson
5. IT'S TORTURE – Maxine Brown
6. I'D BE A MILLIONAIRE – Chuck Jackson
7. HAVE FAITH IN ME – Sugar & The Spices
8. YOU ONLY LIVE TWICE – Lorraine Chandler
9. I'M STEPPING OUT OF THE PICTURE – Johnny Maestro & The Crests
10. GETTIN' TO ME – Ben E King
11. WHAT SHOULD I DO – Little Ann
12. RISING HIGHER – Marva Holiday
13. TRY MY LOVE – Toni & The Showmen
14. TOO MUCH FOR YOU – Bobby Angelle
15. TWO WRONGS DON'T MAKE A RIGHT – The Mayberry Movement
16. THE MAGIC TOUCH – Melba Moore
17. HANDWRITING ON THE WALL – Bobby Wisdom
18. OH, MY DARLIN' – Jackie Lee
19. THINK SMART – The Fiestas
20. (JUST A LITTLE) FAITH AND UNDERSTANDING – The Magicians
21. WE CAN DO IT – The Shaladons
22. I'M SHOOTING HIGH (I REACH FOR THE SKY) – O.C. Tolbert
23. I WANNA THANK YOU – The Quotations
24. NO LIMIT – Darrow Fletcher
25. OH BABY DON'T YOU WEEP – Luther Ingram
26. WITHOUT YOUR LOVE – Bobby Penn
27. THE PANIC IS ON – Lou Johnson
28. (TRUE LOVE IS) IN THE HEART – Alexander Patton
29. CHANGES Lilly Fields
30. SORRY AIN T THE WORD The Paramount Four
Save