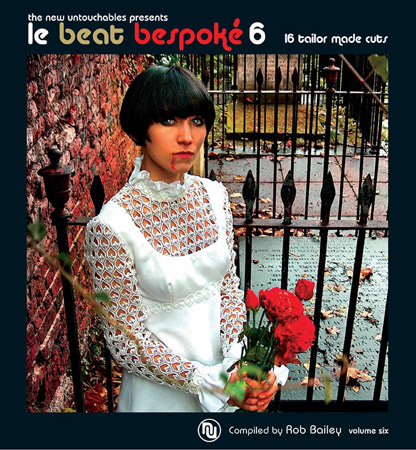 Well, the event is done and dusted for another year, but you'll soon have Le Beat Bespoke 6 on CD and vinyl to keep you company for another year.
Yes, another volume of the New Untouchables album is due out this week (but up for order now), released on both CD and vinyl. As for the content, that's described as 'current hits from Dr Robert's DJ set' (aka Rob Bailey if you didn't know) as well as some 'new discoveries' and 'forgotten gems'. Some compiled for the first time too.
The vinyl has 16 tracks, but if you want the full 20 tracks, you will have to buy the CD. The track listing for the CD is below. Both are released via Detour Records, with the CD selling for £13.99 and the vinyl for £14.99.
Oh yes, there's a promo video here too.
Le Beat Bespoke 6 on CD
Le Beat Bespoke 6 on vinyl
CD tracklisting:
1. I'm The Man – Jerry Holmes
2. Maybe Later – The Omen & Their Luv
3. Life – Crystal Revelation
4. My Baby's Got Me – Troy Marrs
5. Tiger Dance – Bird And The Bees
6. One Way Ticket – Chris Rayburn
7. It's So Much The Better – Marian Ruxell
8. Freedom – Monica
9. Ladder – Sheephouse
10. Back To My Lady – Perhaps Next Tide
11. People in The Night – The Group
12. It Happened – Paul Martin
13. Poor Poor Genie – Damon
14. Girl In The Future – Paul St. James & The Franky's
15. Rat Race – The Tears
16. Purple Purple – Spontaneous Generation
17. The Expectation – Dutch Masters
18. Temple Of Gold – Samurai
19. No Time to Turn Me On – Catapult
20. The Lesson – The Cords