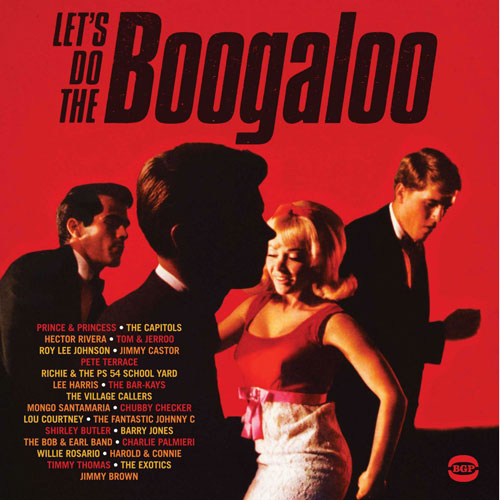 You can always rely on an Ace Records compilation to deliver the goods, so the Let's Do The Boogaloo CD and vinyl should be well worth picking up.
Described by the label as 'the joyous place where young black and Latin youths met and made sweet music' from the period 1965 through to 1968 and popular on dance floors ever since – including those of a mod persuasion.
Extensive sleeve notes explain the story of the dance and how the music adapted to it, explaining what connects Chubby Checker, Charlie Palmieri, Mongo Santamaria and Jimmy Castor, all of whom appear on the album alongside the likes of Hector Rivera, Roy Lee Johnson and many more.
Ace pitch this as 'the definitive compilation from the genre', which sounds reason enough to own it. Check out the track listings for both versions below, with both available to pre-order now ahead of the 26th October release date.
More on the double album vinyl at the Amazon website
More on the CD at the Amazon website
CD track listing:
Ready, Steady, Go – Prince & Princess
We Got A Thing That's In A Groove – The Capitols
Playing It Cool – Hector Rivera
(Papa Chew) Do The Boo-ga-loo Pt 1 – Tom & Jerroo
Boogaloo #3 – Roy Lee Johnson & His Band
Block Party – Jimmy Castor
I'm Gonna Make It – Pete Terrace
What I Feel – Richie & The PS 54 School Yard
Skate, Boogaloo And Karate Too – Lee Harris
Bar-Kays Boogaloo – The Bar-Kays
Hector – The Village Callers
Mongo's Boogaloo – Mongo Santamaria
Hey You! Little Boo-Ga-Loo – Chubby Checker
Me & You (Doin' The Boogaloo) – Lou Courtney
Boogaloo Down Broadway – The Fantastic Johnny C
Boogaloo Zoo – Shirley Butler
Let's Do The Funky Boogaloo Pt 1 – Barry Jones
Boogaloo Pt 1 – The Bob & Earl Band
Bugulu – Charlie Palmieri & His Orchestra, Vocal By Victor Valazquez
Watusi Boogaloo (Boogaloo) – Willie Rosario & His Orchestra
Bugaloo Party – Harold & Connie
Have Some Boogaloo – Timmy Thomas
Boogaloo Investigator – The Exotics
Funky Funky Boogaloo – Jimmy Brown with The Jimmy Brown Band
Vinyl track listing:
Side 1
Ready, Steady, Go – Prince & Princess
We Got A Thing That's In The Groove – The Capitols
Playing It Cool – Hector Rivera
(Papa Chew) Do The Boo-ga-loo Pt 1 – Tom & Jerroo
Boogaloo #3 – Roy Lee Johnson & His Band
Block Party – Jimmy Castor
Side 2
I'm Gonna Make It – Pete Terrace
What I Feel – Richie & The PS 54 School Yard
Skate, Boogaloo And Karate Too – Lee Harris
Bar-Kays Boogaloo – The Bar-Kays
Hector – The Village Callers
Mongo's Boogaloo – Mongo Santamaria
Side 3
Hey You! Little Boo-Ga-Loo – Chubby Checker
Me & You (Doin' The Boogaloo) – Lou Courtney
Boogaloo Down Broadway – The Fantastic Johnny C
Boogaloo Zoo – Shirley Butler
Let's Do The Funky Boogaloo Pt1 – Barry Jones
Boogaloo Pt 1 – The Bob & Earl Band
Side 4
Bugulu – Charlie Palmieri & His Orchestra, Vocal By Victor Valazquez
Watusi Boogaloo – Willie Rosario & His Orchestra
Bugaloo Party – Harold & Connie
Have Some Boogaloo – Timmy Thomas
Boogaloo Investigator – The Exotics
Funky Funky Boogaloo – Jimmy Brown with The Jimmy Brown Band