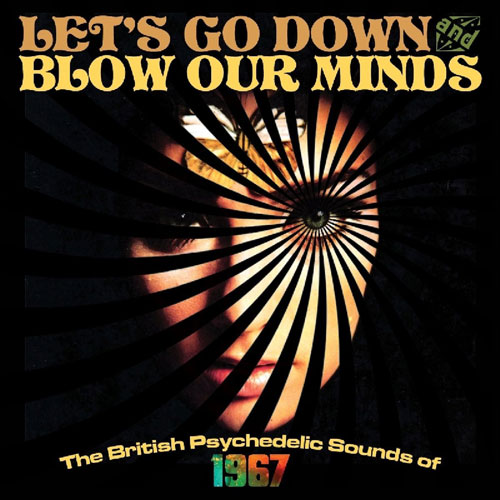 The Cherry Red stable has another potential winner coming your way – Let's Go Down and Blow Our Minds – The British Psychedelic Sounds Of 1967 box set.
Courtesy of its Grapefruit subsidiary, the album covers the year when beat turned psych. Or as the label describes it: 'Beat boom survivors, R&B stalwarts, sharp-suited mods, Swinging London soul revues, earnest acoustic folkies, Denmark Street hustlers and traditional pop acts all abandoned or refined their previous identities to make music that reflected the ubiquitous influence of psychedelia in its myriad paisley-patterned guises'.
There's an awful lot of it too.
This set covers four hours and eighty tracks, with more well known names such as The Move and Procol Harum here, albeit with less obvious choices, as well as less-heard acts such as West Country quintet T. J. Assembly, who 'pressed a mere 25 copies' of their self-penned November 1967 album as a strictly personal memento of their time together. Yes, that obscure.
Of course, there's an awful lot between those two posts, so do check out the track listing below. If you want a copy you can pre-order now ahead of the 30th September shelf date. The price of the three-disc set is £18.38.
Find out more and pre-order at the Amazon website
Track listing:
Disc: 1
1. Toyland – THE ALAN BOWN!
2. Magic in the Air – THE ATTACK
3. Subway (Smokey Pokey World) – THE TICKLE
4. I Can See Through You – EPISODE SIX
5. The Madman Running Through the Fields – DANTALIAN'S CHARIOT
6. Dogs in Baskets – GERANIUM POND
7. Eiderdown Clown – THE SCOTS OF ST. JAMES
8. Dear Delilah – GEORGE ALEXANDER
9. Pink Purple Yellow and Red – THE SORROWS
10. Lazy Man (Alt Version) – THE MIRAGE
11. Give Him a Flower – THE CRAZY WORLD OF ARTHUR BROWN
12. Tanya – TINTERN ABBEY
13. Prodigal Son – FLEUR-DE-LYS
14. See the People – THE LOMAX ALLIANCE
15. Time to Start Loving You – MICKEY FINN
16. I Hear the Sun – THE FINGERS
17. Nice – CROCHETED DOUGHNUT RING
18. My House Is Burning – GOOD THING BRIGADE
19. Ice Woman – THE MOTIVES
20. Look at the Sun – LOUISE
21. I Won't Hurt You – NEO MAYA
22. Path Through the Forest – CLIFF WARD
23. Sanity Inspector – THE SPENCER DAVIS GROUP
24. 'cos It's Over – THE SUMMER SET
25. Try Me for Size – THE FADIN' COLOURS
26. Silver Tree Top School for Boys – THE SLENDER PLENTY
27. Evil Woman – GUY DARRELL
Disc: 2
1. Flames – ELMER GANTRY'S VELVET OPERA
2. Double Sight – ONE IN A MILLION
3. Keep It Out of Sight – PAUL & BARRY RYAN
4. Defecting Grey (Extended Version) – THE PRETTY THINGS
5. Desdemona – JOHN'S CHILDREN
6. Smokeytime Springtime – THE DOVES
7. Flowers in Your Hair – JOHN WILLIAMS
8. All So Long Ago – SWEET FEELING
9. Reflections of Charles Brown – RUPERT'S PEOPLE
10. Toy Soldier – THE RIOT SQUAD ft DAVID BOWIE
11. The Rise and Fall of Bernie Gripplestone – THE RATS
12. Something to Write About – CIRCUS
13. Funny Face – DAVE DAVIES
14. Village Green – THE BROOD
15. Mr. Sun – TONY RIVERS & THE CASTAWAYS
16. Your Servant, Stephen – THE PEEP SHOW
17. And the Squire Blew His Horn – THE UGLYS
18. Vote for Me – THE MOVE
19. A Day in My Mind's Mind – HUMAN INSTINCT
20. She Was Perfection – MURRAY HEAD
21. Little Girl Lost and Found – PETER & THE WOLVES
22. Spare a Shilling – THE BUNCH
23. Flower Power – BIG JIM SULLIVAN
24. Kaleidoscope (Extended Stereo Mix) – PROCOL HARUM
25. Crazy Dreams – THE SEARCHERS
26. In the Deep End – THE ARTWOODS
Disc: 3
1. Someone Turned the Light Out – OUR PLASTIC DREAM
2. Finding It Rough – HAT & TIE
3. Fashion Conscious – THE FRESH WINDOWS
4. The Addicted Man – THE GAME
5. Meditations – FELIUS ANDROMEDA
6. Delighted to See You (Demo Version) – THE HONEYBUS
7. So Many Times – ICE
8. A Walk in the Sky – THE FLOWER POT MEN
9. Friends and Mirrors – FIVE'S COMPANY
10. Family Tree – THE LATE
11. I Think I Need the Cash – THE SECRETS
12. Schizoid Revolution – SKIP BIFFERTY
13. Granny Takes a Trip – THE PURPLE GANG
14. Emily Small – THE PICADILLY LINE
15. Help Me Please – THE OUTER LIMITS
16. 'cept Me – FOCAL POINT
17. Great Shadowy Strange – JADE HEXAGRAM
18. Busker Bill – THE TRUTH
19. Life's Not Life – THE MOODY BLUES
20. I Can't Get Away from You – DON CRAINE'S NEW DOWNLINERS SECT
21. Odd Man Out – THE HI-FI'S
22. Again – THE SYMBOLS
23. Laughing Man – THE MARMALADE
24. Ginger – T. J. ASSEMBLY
25. Michelangelo – THE 23rd TURN OFF
26. Supporters -Support Us – THE Q.P.R. SUPPORTERS
27. Listen to the Sky – SANDS