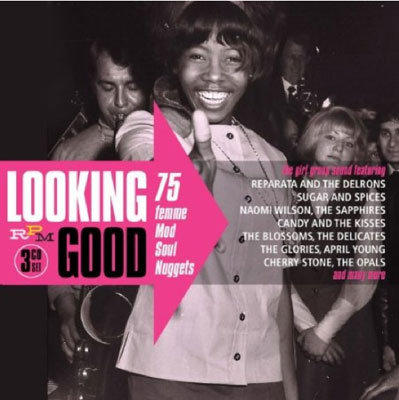 Following on from the Looking Back mod box set comes another interesting (and related) release from Cherry Red, the Looking Good – 75 Femme Mod Soul Nuggets box set.
It's out on RPM via Cherry Red, covering three discs and according to the write-up, compiled by Glenn Gunton, with booklet essay by Mojo and Record Collector scribe Lois Wilson and Looking Back creator John Reed.
As for the music, that's described as 75 collectable '60s soul grooves and rarities from the vaults of Columbia, Challenge, Hickory, Era, King, Scepter, Musicor, Cameo, Swan, Velgo, ABC, Dial, Lawn and Okeh, including plenty or rarities plus unreleased and first time on CD tracks.
Tracklisting below, with the shelf date being 29th July. You can pre-order now at Amazon for £21. Hopefully we'll have a review coming up at some point.
Find out more at the Amazon website
Disc: 1
1. Do What You're Supposed To Do Three Degrees – The Three Degrees
2. Put Yourself In My Place – Azie Mortimer – Azie Mortimer
3. Someone To Treat Me (The Way That You Used To) – The De Vons – The De Vons
4. Mister Loverman – Yvonne Carroll – Yvonne Carroll
5. I've Got Mine, You Better Get Yours The Sapphires – The Sapphires
6. Poor Unfortunate Me – Gigi And The Charmaines – Gigi and The Charmaines
7. Hear You Talking – Beverly Jones With The Prestons – Beverly Jones & The Prestons
8. You're So Fine – Dorothy Berry – Dorothy Berry
9. Run Run – The Persianettes – The Persianettes
10. Handsome Boy – The Ladybirds – The Ladybirds
11. You Better Be A Good Girl Now – The Swans – The Swans
12. Just A Feeling – Irma And The Fascinators – Irma & The Fascinators
13. Little Baby – Kathy Lynn & The Playboys – Kathy Lynn & The Playboys
14. I'm No Runaround – Ginger Davis With The Snaps – Ginger Davis And The Snaps
15. Blow Out The Candle – Ronnie & Robyn – Ronnie & Robyn
16. Magic Island – Kathy And Larry – Kathy & Larry
17. Stop Shovin' Me Around – The Delicates – The Delicates
18. You're Gonna Be Sorry – The Opals – The Opals
19. He's So Fine – The Corvells – The Corvells
20. Nothing To Write Home About The Francettes – The Francettes
21. I'll Be Crying – Gwen Owens – Gwen Owens
22. Write Me A Letter – The Blossoms – The Blossoms
23. I Promise – Flo Fay – Flo Fay
24. You Ain't So Such A Much – Bette Renee And The Thrillers – Bette Renee & The Thrillers
25. Here's To Our Love – Cathy Carroll – Cathy Carroll
Disc: 2
1. Never In A Million Years – The Honey Bees – The Honey Bees
2. And In Return – Sheila Ferguson – Sheila Ferguson
3. I Got My Heart Set On You – The Toys – The Toys
4. You've Got The Power – Gail Wynters – Gail Wynters
5. Gotta Find A Way – Naomi Wilson – Naomi Wilson
6. Gotta Find The Right Boy – Audry Slo – Audry Slo
7. I'll Remember Jimmy – Miss Cathy Brasher – Miss Cathy Brasher
8. He's My Special Boy – Kathy Lynn & The Playboys – Kathy Lynn & The Playboys
9. Two Happy People – Candy & The Kisses – Candy And The Kisses
10. I Gotta Tell It – The Blossoms – The Blossoms
11. So Many Days – The Vonns – The Vonns
12. Looky Looky (What I've Got) – The Yum Yums – The Yum Yums
13. Teardrops – Sugar And Spices – Sugar And Spices
14. He Walks Softly – Cherry Stone – Cherry Stone
15. If The World Only Knew – Dee Dee Dorety – Dee Dee Dorety
16. They're Trying To Tear Us Apart Mary Moultrie – Mary Moultrie
17. Still True To You – Gwen Owens – Gwen Owens
18. Stuck On You – Yvonne Caroll And The Roulettes – Yvonne Carroll and The Roulettes
19. Dream World – Donna Loren – Donna Loren
20. I Want To Get Married – The Delicates – The Delicates
21. Try – Barbara Mills – Barbara Mills
22. The Boy I Love – Renee Medina – Renee Medina
23. I'm Nobody's Baby Now – Reparata & The Delrons – Reparata & The Delrons
24. Dressed In Black – The Pussycats – The Pussycats
25. All Cried Out – Diane & Annita – Diane And Annita
Disc: 3
1. I Stand Accused (Of Loving You) The Glories – The Glories
2. Panic – Reperata & The Delrons – Reparata & The Delrons
3. Marching – The Camp – The Camp
4. The 81 – Candy & The Kisses – Candy And The Kisses
5. We Belong Together – Honey Love And The Lovenotes – Honey Love and The Lovenotes
6. I'm Gonna Pick Up My Toys – The Devonnes – The Devonnes
7. Love's What You Want – Marisa Gatti – Marisa Gatti
8. It's Gonna Be A Big Thing – The Yum Yums – The Yum Yums
9. Evil One – The Sapphires – The Sapphires
10. Baby Baby You – The Love Notes – The Love Notes
11. My Boyfriend – Becky And The Lollipops – Becky & The Lollipops
12. Gonna Make Him My Baby – April Young – April Young
13. You Don't Have To Be In Love – Gail Wynters – Gail Wynters
14. Breakaway – Linda Lloyd – Linda Lloyd
15. Make Me Your Baby – Barbara Lewis – Barbara Lewis
16. Don't Say Nothin' (If You Can't Say Anythin') – Sherrill Roecker – Sherrill Roecker
17. Bobby's Come A Long Long Way – Eight Feet – Eight Feet
18. I Want Your Love – The Pussycats – The Pussycats
19. That Boy Is Messing Up My Mind The Orchids – The Orchids
20. Let Me Get Close To You – Skeeter Davis – Skeeter Davis
21. Baby Sitting – The Corvells – The Corvells
22. So Glad Your Love Don't Change The Little Foxes – The Little Foxes
23. You Can't Hurt Me No More – The Opals – The Opals
24. Baby You're Mine – Sandi Sheldon – Sandi Sheldon
25. I'm So Young – Naomi Wilson – Naomi Wilson