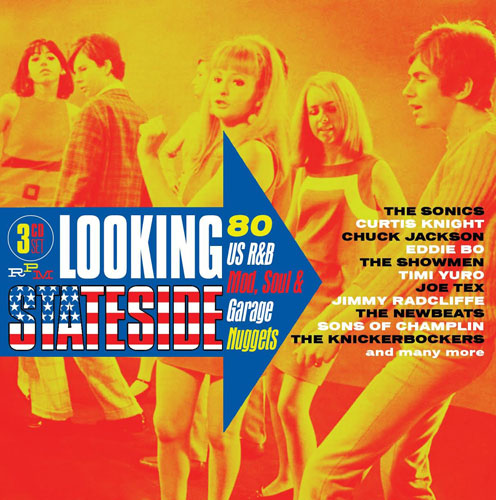 The 'Looking' series of compilations from Cherry Red really are superb. So we are really excited to see another on the horizon – Looking Stateside: 80 US R&B, Mod, Soul and Garage Nuggets. In fact, you can pre-order your copy right now if you love to plan ahead.
The past series, if you missed them, kicked off with Looking Back: 80 Mod, Freakbeat and Swinging London Nuggets, which was followed by Looking Good – 75 Femme Mod Soul Nuggets in 2013, then finally the Keep Lookin' – Another 80 Mod, Soul and Freakbeat Nuggets box. Well, not quite finally as details of the Stateside box have just broken.
Thanks to John Reed at Cherry Red for letting us know the track listing and of course, for sending over the artwork.
According to John, the new collection from the RPM imprint of Cherry Red focuses on American grooves of the 1960s, mixing the genres for an overview of the era.
Disc one is 'quite obscure', described as early 60s proto-soul and R&B, throwing in some sur instrumentals and girl group sounds for good measure. The second disc is 'more familiar' and including some northern classics (but not too over-compiled), while the third disc goes garage punk and beat, with a touch of psychedelia towards the end.
Of course, if you want all of that in detail, the track listings are below for all three discs – 80 tracks in total, was the title suggests.
The box set isn't landing in time for Christmas sadly, if you have any money left it is provisionally down for 29th January 2016. However, you can pre-order one now if you like. Amazon has the three-disc set listed for £18.58.
Find out more at the Amazon website
Track listing:
Disc 1
1. SUGAR SHACK QUEEN – Georgia Lynn
2. HEY SAH LO NEY – Mickey Lee Lane
3. WHERE'S MY MONEY – Willie Jones
4. BUZZZZZZ – Jimmy Gordon
5. LOVE WHEEL – Millie Foster
6. GOTTA HAVE NEW DRESS -Curtis Knight
7. I FEEL SO BAD -Earl Wade
8. BONGO TALK -Jimmy McQuade & The Unique Echoes
9. TAKE THE BITTER WITH THE SWEET- Little Gigi
10. I'M GONNA GET YOU – Kansas City
11. NOW LET'S POPEYE – Eddie Bo
12. SNOW SURFIN' – Zeke Sheppard
13. MOGUL MONSTER -The Rangers
14. YOU COPPED MY SOUL -The Demetrons
15. TWO STEPS AHEAD (OF A WOMAN)- Herb Johnson
16. MAKE IT SATURDAY NIGHT – The Locomotions
17. THE PUSH AND KICK – Mark Valentino
18. TNT – The Buena Vistas
19. HE'S MINE -The Swans
20. THE SWEETEST BOY -The Kittens
21. SWITZERLAND – The Champs
22. I'D RATHER FIGHT THAN SWITCH -The Tomboys
23. JUST IN THE NICK OF TIME -Billy Lee
24. SOUTH SWELL -Little Joe And The Mustangs
25. RUNNING AROUND TOWN- Teddy & Twilights
26. I JUST WANT TO KNOW- The Delacardos
27. PASSING THRU MUSIC CITY- Music City Swingers
Disc 2
1. I WILL LOVE YOU -Richie Barrett
2. GONE- Timi Yuro
3. TEAR STAINED FACE – Don Varner
4. THE YESTERDAY OF OUR LOVE – Jimmy Seals
5. THESE CHAINS OF LOVE (ARE BREAKING ME DOWN) -Chuck Jackson
6. TAKE IT BABY -The Showmen
7. I CAN TAKE CARE OF MYSELF- The Spyders
8. ARE YOU SATISFIED- Sheila Ferguson
9. I'LL FORGIVE AND FORGET -Ron Holden
10. NEVER TOO YOUNG (TO FALL IN LOVE)- The Modern Redcaps
11. HAS IT HAPPENED TO YOU YET- The Falcons
12. PUT THAT WOMAN DOWN- John Leach
13. I'VE GOT TO KEEP MOVIN'- Charles Lamont & The Extremes
14. CAN'T LIVE WITHOUT YOU- The Jay Walkers
15. HARD HARD WAY- Silent Glo
16. THE BOSTON MONKEY- Richard Anthony & The Blue Notes
17. DOUBLE LIFE -Jerry Fuller
18. HERE SHE COMES- Sonny Stiles and his King Men
19. IT WILL BE DONE- Eddie Carlton
20. YOU'VE GOT IT BAD- The Kampells
21. I WANNA BE FREE- Joe Tex
22. BABY I'M COMING HOME- Mack Rice
23. EVERYBODY CROSSFIRE- Sammy Stevens
24. YESTERDAY TODAY AND TOMORROW- Linda Cumbo
25. I'M A TEARDROP- The Newbeats
26. SOULVILLE- Jimmy Radcliffe
27. SOME KIND OF FEVER (PRAY FOR RAIN)- Maxine Sellers
Disc 3
1. DON'T SHOOT ME DOWN -The Brogues
2. 99TH FLOOR -The Moving Sidewalks
3. FAT CITY -Sons Of Champlin
4. BIRD-DOGGIN' – Gene Vincent
5. YOU GOT YOURS- The US Male
6. AS A MATTER OF FACT- The Knickerbockers (featuring Jimmy Walker)
7. IT WON'T BE LONG NOW- The Rivals
8. OUT OF OUR TREE- The Wailers
9. BOSS HOSS- The Sonics
10. SHOW ME THE WAY – The Free For All
11. GIRL CAN'T TAKE A JOKE- The Druids
12. CRAZY WORLD- Peck's Bad Boys
13. YOU AIN'T TUFF – Lindy Blaskey & The Lavells
14. LEAVING HERE – The Rationals
15. I WANT THE RAIN PT 1- The Executioners
16. HARLEM SHUFFLE- The Traits
17. CONGO- International Bongo Band
18. SHAME SHAME SHAME- Hal & The Prophets
19. LAZY- Georgy & The Velvet Illusions
20. MIDNIGHT HOUR- The Berrys
21. MIRROR OF YOUR MIND – We The People
22. TOBACCO ROAD- Love Society
23. FEEDBACK- Culver Street Playground
24. TOMORROW'S GONNA BE ANOTHER DAY – Sir Raleigh & The Cupons
25. ENDLESS SEARCH- The Centurys
26. MY MIND- The Misunderstood