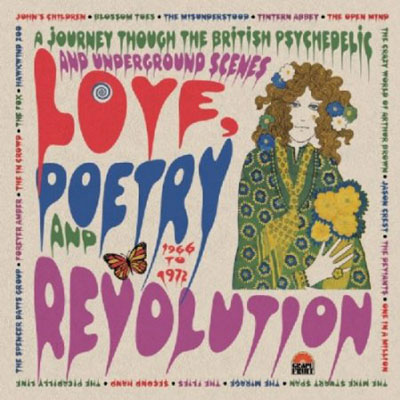 Have to say, Cherry Red is ripping it up when it comes to box sets right now, with Love, Poetry and Revolution on its Grapefruit Records offshoot looking like another gem.
Ideal home too, as Grapefruit is its dedicated British psych label. Described as a journey through the British psychedelic and underground scenes from 1966 – 1972, the set comes with a 'lavishly annotated and illustrated' 36-page booklet, with the box itself packed with rare material, including previously unissued demo recordings by Tintern Abbey and Blossom Toes, for example plus other 'lost' acts who failed to release anything in their lifetime.
Granted some of the material here might be a bit way out and (date I say it) 'proggy', but if you're a fan of British psych rock and pop, we suspect you'll be all over this.
It is out on 25th November 2013, with Amazon.co.uk doing pre-orders for £19.41. Tracklisting below.
DISC ONE
1.      DEEP FEELING – Pretty Colours
Not originally issued, recorded circa October 1966
2.      THE MISUNDERSTOOD – Find The Hidden Door
Not originally issued, recorded June 1966
3.      THE IN CROWD – Am I Glad To See You?
Not originally issued, recorded circa October 1966
4.      THE DRAG SET – Day And Night
Original release: 7", Go AJ 11405, 3/67
5.      TUESDAY'S CHILDREN – A Strange Light From The East
Original release: 7", King KG 1051, 1/67
6.      THE MIRAGE – The Wedding Of Ramona Blair
Original release: 7", Philips BF 1571, 5/67
7.      THE HI-FIS – Tread Softly For The Sleepers
Original release: 7", German Star Club 148 578, 4/67
8.      SPENCER DAVIS GROUP – Mr Second  Class
Original release: 7" U.A. UP 1203  12/67
9.      TINTERN ABBEY – Busy Bee
Previously unissued demo version, recorded circa July/August 1967
10.    BLOSSOM TOES – I'll Be Late For Tea
Previously unissued demo version, recorded circa August 1967
11.    THE CRAZY WORLD OF ARTHUR BROWN – Devil's Grip
Original release: 7", Track 604 008, 9/67
12.    SANDS – Mrs Gillespie's Refrigerator
Original release: 7", Reaction 591 017, 9/67
13.    THE SHAME Don't Go 'Way Little Girl
Original release: 7", MGM 1349, 9/67
14.    THE PICADILLY LINE – Rosemary's Bluebell Day
Not originally issued, recorded Autumn 67
15.    CROCHETED DOUGHNUT RING – Two Little Ladies (Azalea and Rhododendron)
Original release: 7", Polydor 56204, 10/67
16.    THE MIKE STUART SPAN – Second Production
Not originally issued, recorded 10/67
17.    FELIUS ANDROMEDA – Cheadle Heath Delusions
Original release: 7" Decca F 12694, 11/67
18.    NEON PEARL – Just Another Day
Not originally issued, recorded late 1967
19.    JOHN'S CHILDREN-Jagged Time Lapse
Original release: 7", Track 604010, 10/67
20.    ONE IN A MILLION – Man In Yellow
Not originally issued, recorded circa December 1967
21.    JADE HEXAGRAM – Crushed Purple
Not originally issued, recorded early 1968
22.    DENIS COULDRY & THE NEXT COLLECTION – I Am Nearly There
Original release: 7", Decca F 12734, 2/68
23.    THE ALAN BOWN! – Story Book
Original release: 7", MGM 1387, 3/68
24.    SIMON'S SECRETS – Naughty Boy
Original release: 7", CBS 3406, 4/68
25.    THE CORTINAS – Phoebe's Flower Shop
Original release: 7", Polydor 56255, 5/68
26.    THE DEVIANTS – Child Of The Sky
Original release: LP, Ptooff! (Underground Imp IMP 1, 6/68)
DISC TWO
1.      THE SPENCER DAVIS GROUP – Morning Sun
Original release: LP, With Their New Face On (United Artists SULP 1192, 6/68)
2.      THE MIRAGE – Ebaneezer Beaver
Not originally issued, recorded March '68
3.      WEST COAST CONSORTIUM – Amanda Jane
Not originally issued, recorded mid-1968
4.      JASON CREST – Teagarden Lane
Not originally issued, recorded mid-1968
5.      THE FLIES – Winter Afternoon
Not originally issued, recorded late 1968
6.      THE DEVIANTS – You've Got To Hold On
Original release: 7", Stable ST 5601, 10/68
7.      THE CRAZY WORLD OF ARTHUR BROWN – Nightmare
Original release: 7", Track 604 026, 11/68
8.      SUN DRAGON – Peacock Dress
Original release: LP, Green Tambourine (MGM CS 8090, 11/68)
9.      PETER HOWELL & JOHN FERDINANDO – Jabberwocky
Original release: LP, Alice Through The Looking Glass (SNP LP 11/12, 1/69)
10.    FOREVER AMBER – Bits Of Your Life, Bits Of My Life
Original release: LP, The Love Cycle (Advance M ADV 00101, 1/69)
11.    PLEASE – Strange Ways
Not originally issued, recorded 1969
12.    THE LIVERPOOL SCENE – We'll All Be Spacemen Before We Die
Not originally issued, recorded February 1969
13.    SERENDIPITY – Castles (full-length version)
Not originally issued full-length version, recorded early 1969
14.    THE SORROWS – The Makers
Original release: LP, Old Songs New Songs (Italian Miura MIU 10011, early 1969)
15.    SECOND HAND – A Fairy Tale
Original release: LP, Reality (Polydor 583 045, 3/69)
16.    INFORMATION – Oh Strange Man
Original release: 7", Beacon BEA 121, 3/69
17.    SHY LIMBS – Love
Original release: 7", CBS 4190, 5/69
18.    HARDIN-YORK – Tomorrow Today
Original release: 7", Bell BLL 1064, 5/69
19.    INFINITY – Venetian Glass
Not originally issued, recorded 1969
20.    MIC READ – What The Dickens
Not originally issued, recorded 1969
21.    RESPECT – Santa Lucia
Not originally issued, recorded August 1969
22.    FAT MATTRESS – Iridescent Butterfly
Original release: 7", Polydor 56352, 9/69
DISC THREE
1.      THE OPEN MIND – Magic Potion
Original release: 7", Philips BF 1805, 8/69
2.      PHIL CORDELL – Red Lady
Original release: 7", Warner Bros WB 8001, 9/69
3.      TAICONDEROGA – Whitchi Tai To
Original release: 7", Beacon BEA 143, 11/69
4.      HAWKWIND ZOO – Hurry On Sundown
Not originally issued demo version, recorded late 1969
5.      PRINCIPAL EDWARDS MAGIC THEATRE – Lament For The Earth
Original release: 7", Dandelion S 4405, 12/69
6.      CZAR – Ritual Fire Dance
Not originally issued, recorded February 1970
7.      THE FUT – Have You Heard The Word
Original release: 7", Beacon BEA 160, 3/70
8.      PAPER BUBBLE – Fillin' A Gap
Original release: LP, Scenery (Deram SML 1059, 3/70)
9.      THE FOX – Butterfly
Original release: LP, For Fox Sake (Fontana 6309 007, 6/70)
10.    COMPLEX – Images Blue
Not originally issued demo version, recorded July 1970
11.    OCTOPUS – Rainchild
Original release: LP, Restless Night (Penny Farthing PELS 508, 4/71)
12.    T2 – Careful Sam
Not originally issued, recorded late 1970
13.    SIMON FINN – Laughing 'Til Tomorrow
Original release: LP, Pass The Distance (Mushroom 100 MR 2, 4/71)
14.    BEAU – Creation
Original release: LP, Creation (Dandelion DAN 8006, 6/71)
15.    BILL NELSON – End Of The Seasons
Original release: LP, Northern Dream (Smile LAF 2182, 11/71)
16.    MARK FRY – The Witch
Original release: LP, Dreaming With Alice (Italian ZSLT 70006, 6/72)
17.    KEVIN COYNE – Evil Island Home
Original release: LP, Case History (Dandelion 2310 228, 11/72)