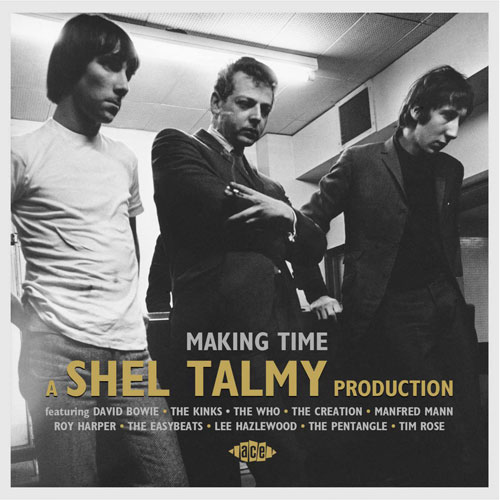 Not all of the material on here would come under the mod banner, but for obvious reasons we are featuring Making Time – A Shel Talmy Production, which is coming out via Ace Records.
As Ace puts it: He is foremost, an American ex-pat who almost single-handedly changed the sound of British rock'n'roll. Of course, he was responsible for the early work of The Kinks and The Who, but as this album shows, he did so much more too.
25 of his finest productions are pulled together here, thanks to access to the Talmy personal vaults, including future stars David Bowie and Lemmy (with the Rockin' Vickers) to cult faves the Untamed, Oliver Norman, First Gear and Mickey Finn, along with the acts on Talmy's own Planet Records, such as the Creation.
Knowing Ace Records, all of that will be backed up with some of the finest sleevenotes and background information you could ask for.
The release date is 26th May 2017 and the CD is available to pre-order right now, priced at £12.68.
Find out more at the Amazon website
Track listing:
Making Time – The Creation
Bald Headed Woman – The Sneekers
Semi-Detached Suburban Mr James – Manfred Mann
That's Why I Love You – Goldie & The Gingerbreads
Tired Of Waiting For You – The Kinks
Bye Babe – Lee Hazlewood
Anyway, Anyhow, Anywhere – The Who
Night Comes Down – Mickey Finn
Light Flight (Theme from Take Three Girls) – The Pentangle
Stop And Watch The Children Play – The Rokes
A Certain Girl – The First Gear
Surrender – Perpetual Langley
You've Got A Habit Of Leaving (Alternate Outtake Version) – Davy Jones
Ageing Raver – Roy Harper
Lisa – The Easybeats
Daddy Long Legs – Lindsay Muir's Untamed
A Summer Song – Chad & Jeremy
Jack O' Diamonds – Ben Carruthers & The Deep
Toymaker – Wild Silk
I'm Coming Home – The Nashville Teens
Caroline – The Fortunes
Drowning In My Own Despair – Oliver Norman
I Don't Need Your Kind – The Rockin' Vickers
Jamie Sue – Tim Rose
Sinner Not A Saint – Trini Lopez
Save