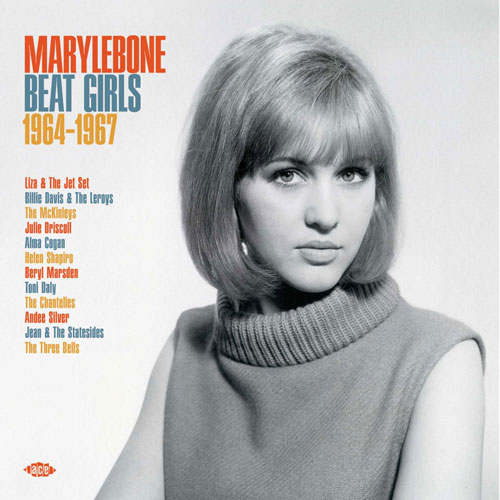 Another potential winner from a label specialising in them – Marylebone Beat Girls 1964-1967.
Two covers and two editions, one the CD collection and the other the vinyl set. But both covering the similar ground. This is the follow-up to the recent Love Hit Me! Decca Beat Girls and Scratch My Back! Pye Beat Girls, offering more girl pop, this time from the EMI group of record labels – Parlophone, Columbia and HMV – which were based in Marylebone in the heart of London's West End.
According to Ace:
Most of the female acts signed by EMI were teenagers completely tuned in to the current pop trends. Scottish duo the McKinleys, R&B club habituée Julie Driscoll (cover star of the vinyl version), talent show winner Billie Davis (the CD cover girl) and Midlands pub singer Beverley Jones took original material from London's Tin Pan Alley and American covers and gave them an abrasive, vigorous kick that made for fabulous 45s.
The pick includes Dancing Yet, a 'Dobie Gray-style discotheque number' by Liza & the Jet Set, Like The Big Man Said by Toni Daly, a cover of Italian star Caterina Caselli's L'uomo D'oro' with 'edgy' English lyrics and Billie Davis' groovy gender-switched update' of Chuck Willis' Whatcha' Gonna Do.
The LP is 180g orange vinyl in a heavy duty sleeve with comprehensive notes and rare photos on the inner bag. The CD is 24 tracks and with a 'bumper booklet featuring expanded notes and extra photos'.
Both are available to order now ahead of the 30th June 2017 release date. Track listings below.
Marylebone Beat Girls 1964-1967 CD at Amazon
Marylebone Beat Girls 1964-1967 on vinyl at Amazon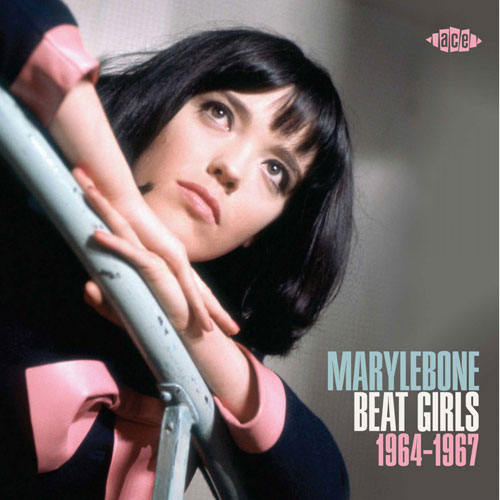 LP track listing:
Side 1
Dancing Yet – Liza & The Jet Set
Whatcha' Gonna Do – Billie Davis & The Leroys
Don't Do It No More – Julie Driscoll
Love Is A Word – Alma Cogan
Stop And You Will Become Aware – Helen Shapiro
Side 2
Music Talk – Beryl Marsden
Like The Big Man Said – Toni Daly
I Want That Boy – The Chantelles
The Boy I Used To Know – Andee Silver
Mama Didn't Lie – Jean & The Statesides
He Doesn't Want You – The Three Bells
CD track listing:
Dancing Yet – Liza & The Jet Set
Whatcha' Gonna Do – Billie Davis & The Leroys
Sweet And Tender Romance – The McKinleys
Don't Do It No More – Julie Driscoll
Love Is A Word – Alma Cogan
Stop And You Will Become Aware – Helen Shapiro
Music Talk – Beryl Marsden
Like The Big Man Said – Toni Daly
I Want That Boy – The Chantelles
The Boy I Used To Know – Andee Silver
Mama Didn't Lie – Jean & The Statesides
He Doesn't Want You – The Three Bells
Hear You Talking – Beverley Jones with The Prestons
He Fought The Law – She Trinity
Find Out What's Happening – Tiffany with The Thoughts
Forget About The Bad Things – Helen Shapiro
I Know You Love Me Not – Julie Driscoll
I'm Waiting For The Day – Peanut
Lonely City Blue Boy – Cindy Cole
The Pleasure Girls – The Three Quarters
Ain't That Fun – Linda Laine with The Sinners
Suffer Now I Must – Cilla Black
Euston Station – Barbara Ruskin
He Knows I Love Him Too Much – Valerie Avon
Make The Most Of It – Judi Johnson
Save